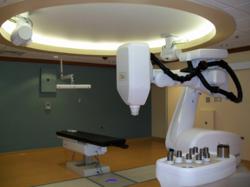 "For patients with surgically complex or medically inoperable tumors, alternatives to traditional lung cancer treatment are important and can give patients additional options to consider," said Dr. Andy Su, medical director of CyberKnife Center of Chicago
Elmhurst, Ill. (PRWEB) January 14, 2013
Since opening in 2009 in partnership with Elmhurst Memorial Healthcare, CyberKnife Center of Chicago has treated nearly 200 lung cancer patients from the Chicago area and nationwide. It is now the second most frequently treated disease at the center and encompasses one-third of treatments.
According to the American Cancer Society, nearly 220,000 people will face a lung cancer diagnosis this year. As the most common cancer diagnosis in the world, the disease kills more people annually than breast, colon and pancreatic cancers combined.
Fortunately, advancements in cancer treatment have led not only to increased survival rates, but also expanded treatment options for patients. CyberKnife Center of Chicago, based in the Chicago suburb of Elmhurst, offers an alternative to treatments like surgery or traditional radiation therapy.
"For patients with surgically complex or medically inoperable tumors, alternatives to traditional lung cancer treatment are important and can give patients additional options to consider," said Dr. Andy Su, medical director of CyberKnife Center of Chicago.
Surgery is the standard treatment for lung cancer and involves removing all or part of the patient's affected lung. However, patients in poor general health or suffering from chronic pulmonary disease like emphysema may not be able to undergo surgery. For patients who aren't surgical candidates, external-beam radiation therapy is typically recommended, although this treatment may be lengthy and difficult for some to endure.
CyberKnife Center of Chicago offers a newer, noninvasive form of treatment for lung cancer called stereotactic body radiation therapy (SBRT). This advanced procedure is provided using CyberKnife® technology. While the name may conjure images of knives and scalpels, CyberKnife treatment involves no incisions, no sedation and no overnight hospital stay. Lung tumors are treated with very precise, high-dose radiation beams while radiation exposure to healthy tissue surrounding a tumor is minimized.
A key advantage of CyberKnife is the machine's unique ability to track tumors in real time while compensating for normal patient movements, such as breathing. Treatments are complete within five or fewer sessions versus about 40 treatments typically required with conventional radiation therapy. Patients typically experience few, if any, side effects and return to normal routines following treatment.
"Clinical data has shown CyberKnife can offer effective treatment of lung tumors while carrying a low risk of side effects," says Dr. Su. "Studies to determine long-term effectiveness are ongoing, but early results are promising."
To find out if you or a loved one may be a candidate for CyberKnife treatment, request more information. CyberKnife Center of Chicago is a service of Elmhurst Memorial Healthcare and is located at 200 Berteau Ave. in Elmhurst, Ill. For more information, call (331) 221-2050.