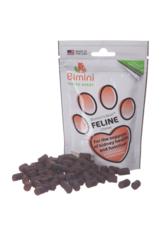 We will be providing scientific education on the use and success of our active ingredients
San Diego, California (PRWEB) January 15, 2013
Bimini Pet Health, a leader and innovator for unique health supplement formulas for cat and dogs announces that they will be attending the NAVC meeting in Orlando, January 20-23, Booth # 3602. The company will be highlighting their unique product line including Bimini's Best Cat Kidney Health Supplement and Bimini's Best Dog Hip and Joint Health Supplement. The Company also plans booth presentations throughout the conference days to discuss the science behind their products. This is a veterinary exclusive line and is very popular to help provide cats and dogs with a better quality of life. Up to 90% of the costs of Bimini's Best Health Supplements are covered by pet insurance companies such as Trupanion.
Bimini will be looking for veterinarian clinics to represent Bimini's Best in some target towns and cities in the US at the NAVC meeting. These clinics will be listed on our web site so pet owners know where to buy Bimini's Pet Health Supplements.
"The NAVC meeting will be a great opportunity to meet with vets throughout the US in person and let them know all about our high quality, made in the USA health supplements," said Julie Bryant, CEO of Bimini. "We plan to educate them on our products and show them how they can help cats and dogs achieve a better quality of life and share cat and dog success stories from our customers."
About Bimini, LLC.
Bimini develops differentiated health supplements that are not available anywhere else on the market today. They are all supported by published science and have patents pending. Everything is made in the USA, we use natural active ingredients and our goal is to improve the quality of our pets' lives. All of our cat and dog products are in a tasty chew format that they love to eat, no powders or pills and they are available exclusively through veterinarian clinics.
For more information, please visit the company's web site.