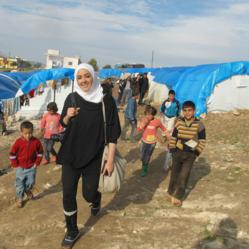 Washington, DC (PRWEB) January 09, 2013
Nine Syrian-American activists traveled to Syria and Turkey on a SAC-sponsored trip from Dec. 25 to Jan. 4 to assess the humanitarian situation and visit Syrians dealing with the on-going conflict. The activists delivered $15,000 of aid to refugee camps along the borders, but they said their main goal is to use what they have learned to help develop better coordination between aid organizations working there.
The activists went to schools in refugee camps in Turkey to help teach English and visited rehabilitation centers for wounded people. They surveyed four different camps in Syria where refugees are in desperate need of help. The activists found that refugees at Atmeh camp are living on one boiled potato per tent, per day. Some tents have over ten people.
They donated money to pave muddy walkways, build toilets, and fuel generators in the camps. The group also donated $4,000 worth of flour to a suburb of Aleppo, which was enough to make bread for everyone in the town. While visiting the suburbs of Aleppo, the activists witnessed a horrifying attack when a TNT Barrel was dropped 500 meters away from them.
"I wanted to go see the demolition and help with the rescue efforts, but I was instructed to stay back; the regime often fired automatic weapons from the sky at rescuers at the scene... At least 18 were killed instantly, including two entire families of a father, mother, and multiple children. Tens more were injured and buried alive beneath the rubble," wrote SAC Board Member Kenan Rhamani in a blog post about the experience. Activists' blog is located here.
In addition to delivering aid, the young Syrian-Americans met with leaders of the civilian administrative councils that are emerging across liberated areas to establish relationships that will help with future aid delivery and management. SAC activists plan to refocus aid to help support democratic, civilian governance efforts in the liberated areas of Syria.
Join SAC's Rahmani and Yisser Bittar for a web conversation about the trip at 9 p.m. EST on Jan. 10. Reserve a spot here.
Help by donating here.