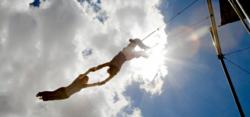 Avoid self-sabotaging doubt
(PRWEB) January 09, 2013
Lynne Curry, Ph.D., SPHR, (CEO of The Growth Company, Inc.) continuously gets questions from clients about how to handle career changes. Today, Dr. Curry reveals excellent ideas for clients to easily transition into new careers whether by choice or force.
Dr. Curry starts off by acknowledging, "You expect to feel angry when unfairly fired from a job. You expect to feel scared when unexpectedly laid off from a job at which you felt secure. You don't expect, however, to feel rotten when you leave a job you've outgrown and landed an exciting new position – except sometimes you do."
For the job changer, the experience resembles the danger that looms in front of a circus performer who lets go of one trapeze before catching the second. No matter how confident, most job changers wonder at least briefly – "will I be the one out of one hundred who doesn't catch the second trapeze and crashes below?"
Dr. Curry says, "If you're experiencing job changer's remorse, try these strategies for gaining grip on your new job's trapeze."
First, "Keep your eye on the new ball game. Sudden job change ends your sense of knowing 'what's' and can leave you wondering -- what have I done – am I up to this?"
According to Dr. Curry a surprising number of job changers, particularly those who step from technical or employee into supervisory roles, seek out the comfort of former job duties when the going gets rough in their new positions. Those who slide backwards into former duties steal hours needed to succeed in their new position.
"If backsliding beckons you," says Dr. Curry, "fast-forward in your mind to six months from now. Which will help you more – spending hours completing the easily completed duties you already know how to handle or learning challenging new duties? If you find yourself nostalgically remembering your former comforting assignments, realize this only dilutes the concentrated focus you need to accelerate learning new skills."
Dr. Curry adds, "Instead, fully focus on learning the new rules of the organization or work team you've joined. Most of us bring our old methods with us our new positions. As an example, those of us who like to talk things through find irritating that our new bosses and co-workers prefer to email instructions and complain 'there's no dialogue here.' By expecting our new supervisor and co-workers to conform to our former ways of doing things, we make ourselves into a square object hoping for happiness in a round location. We need to realize we can be the very best player in a game no longer played or we can learn the rules of the new game."
Avoid self-sabotaging doubt, advises Dr. Curry. When things don't work out easily, negative self-talk such as "I'll never be able to figure this out" and "the person who hired me is probably, right now, cursing the moment he picked me" can take over. According to Dr. Curry, "When you allow self-criticism to flood your brainwaves, you subtract enthusiasm and undermine your innate ability."
"Finally," Dr. Curry explains, "commit yourself to working hard. When you plunge into a new job, you start close to the bottom of steep learning curve. While losers expect easy success, winners in any game roll up their sleeves and practice, committing fully to grabbing that exciting second trapeze."
Dr. Lynne Curry is a management/employee trainer and owner of the consulting firm The Growth Company Inc. Send your questions to her at lynne(at)thegrowthcompany(dot)com.
You can follow Lynne on Twitter @lynnecurry10
© Lynne Curry, January 2013,http://www.thegrowthcompany.com