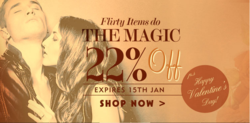 Flirty items do the magic! Happy Valentine's Day!
Chengdu, China (PRWEB) January 16, 2013
Valentine's Day is right around the corner, and what to wear this season has been a hot topic in fashion circles worldwide. Milanoo, a leading international online retail supplier, announces Valentine's Day fashions to the public for dating and intimate moments this Valentine's Day. Both men and women will find a trend setting outfit from the Milanoo Valentine's Day Fashion Collection which includes stylish styles of Tops & Tees, Dresses, Pants, Lingerie and Club Wear that have been specifically designed for the Valentine's Day season.
The Milanoo Valentine's Day Fashion Collection will give men and women of all ages the ability to wear designer styles on their special night. A discount of 22% off is being offered by Milanoo and can be accessed by simply using the code "VALEN22". Affordable, high quality products make Milanoo well known throughout the world. It is easy for anybody, no matter what type of taste, to find a fashionable outfit in an array of colors and designs.
"We are so glad to give customers our best wishes and say Happy Valentine's Day to the lovers all over the world. The Valentine's Day Fashion Collection being presented to our customers is made up of especially flirty and fun items. And it is our hope that our styles will help make our customer's night magical. As a global fashion supplier, we at Milanoo try our best to discover and present the trendiest styles for casual day to day wear and that special occasion." Explains the COO of Milanoo.
Valentine's Day is the perfect excuse to get dressed up in the hottest fashions. With the release of Milanoo's Valentine's Day Fashion Collection lovers worldwide will certainly have a place to find the perfect outfit to make this Valentine's Day one to remember. Visit milanoo.com and check out the online store.
About Milanoo
Milanoo is a leading transnational online retailing B2C China-based corporation, specializing in providing wedding and special events dresses, Cosplay costumes Zentai suits and other widely selectable styles of apparel and accessories to meet the expectations of especially women customers. A snap shot of grasping the trend of global fashion, Milanoo is willing to share "passion for fashion" philosophy and pass "oriental fashion" conception throughout the world.