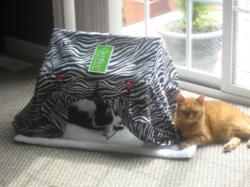 The Hangout
(PRWEB) January 11, 2013
A cat named Smoochie, nicknamed "Smoochdoggie" for his doglike ways, is the inspiration behind the creation of this company.
Smoochie sadly passed away after three short years leaving memories of his joyful spirit that is reflected in the products that bear his name.
In an effort to find a way to share the memory of this special relationship, a new product, the Gypsee®, was designed. The playful features of the Gypsee® evolved when observing kids and cats playing hide and seek in plain view. Hiding in plain view is a charade that can lead to joyful encounters for all involved. The Gypsee® has many openings for cats to move freely in and out never feeling trapped. However, there are plenty of opportunities for sneak attacks or long, cozy naps.
Appealing to the owners is always a major consideration in creating pet products, but without considering cats preferences, many toys seem to get ignored and forgotten.
The Gypsee® is designed to be fun to own, easy to move around, and practical enough for everyday use. The Gypsee® makes a statement that this special place is for cats only.
It is with this spirit that Smoochdoggie became a company focused primarily on design with the goal of creating unique products for pets and their owners who like to have fun, much like the namesake of this company did for his owners.
To learn more about the Smoochdoggie story and watch a video of a cat that gives hugs -
go to: http://www.smoochdoggie.com.