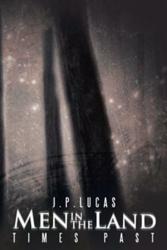 men who must deal with immorality, greed and danger decisively, and sometimes violently, while maintaining their integrity
SHEPHERD, Mont. (PRWEB) January 11, 2013
J.P. Lucas' motivation for writing his new short story collection, "Men in the Land: Times Past" (published by Trafford Publishing), was a personal one.
"I have always wanted to pass along my personal belief that every man and woman is responsible, regardless of circumstance, to stand for something good," says Lucas. "It is a fact that nations and societies disintegrate when material wealth, greed and immorality rise and decency declines. When morality becomes a moot point, society dies. There must be those with good, strong, immovable, non-compromising beliefs, who will stand for something positive in a society, no matter the opposition, from the undesirable side."
With this maxim in hand, Lucas created engaging tales that told the stories of men. "Real men," emphasizes Lucas, "men who must deal with immorality, greed and danger decisively, and sometimes violently, while maintaining their integrity."
Like famed author Louis L'Amour, Lucas presents rough-and-tumble protagonists, often in a historical context, who overcome mounting odds. Lucas' characters also present an alternative to modern-day role models.
"The druggy rapper is not a hero," states Lucas. "The half-naked, stoned and perverted rock star is not a hero. Both are controlled humanoid robots. But, there are still those out there who wish occasionally to read of those of yesteryear and today, who stand out, stand up and push on the agenda of respect, decency, honor, courage, love and humility."
"Men in the Land"
By J.P. Lucas
Hardcover | 6 x 9 in | 464 pages | ISBN 9781466926134
Softcover | 6 x 9 in | 464 pages | ISBN 9781466926158
E-Book | 464 pages | ISBN 9781466926141
Available at Amazon and Barnes & Noble
About the Author
J.P. Lucas has a wide range of life experience: raised in a near 19th-century Appalachian mountain environment, an American history student and Revolutionary War descendant, a student of human characteristics and behavior, lifelong businessman, father, mountain horseman, hunter, pilot, machinist, heavy equipment operator, Mine Safety and Health Administration (MSHA) instructor, mine owner and inventor, writer, speaker and musician.