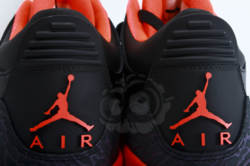 Miami, FL (PRWEB) January 16, 2013
Miami based 8&9 Clothing is well known for it's exclusive colorways. Unlike other streetwear companies, 8&9 tees shy away from any design inspiration taken direct from any sneaker or its name. On the contrary 8&9 delivers eclectic graphics that appeal to their core streetwear customer. That customer considers himself a connoisseur, he buys what he likes not what the masses lust. Today, 8&9 delivers a sneak peek of another spring Jordan release the beasts are sure to lust.
Close up and detailed pictures of the Air Jordan Crimson 3 shot by Respek Fresh can be found on the 8&9 Sneaker Blog. The Air Jordan Crimson 3 feels similar to other Jordan 3 releases but incorporates purple into the elephant cracks. It's not an OG color but incorporating the Crimson which is very similar to infrared will bring some attention.
For more information on the Jordan Joker release check 8and9.com/blog or follow @8and9 on twitter or instagram.