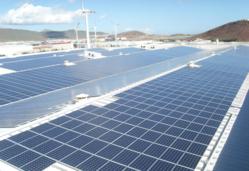 Environmental protection and sustainability are of great importance for both sectors and influence the islanders' actions. Also, the sun-kissed islands are virtually predestined for solar power.
Hamburg / Fuerteventura (PRWEB) January 10, 2013
10 January 2013 - Conergy is building additional solar plants on the Canary Islands. Following the installation of a roof-top plant in the Canaries at a coffee roasting company, which is the largest on-roof installation in the Canaries at 1.7 megawatt, and another, 500 kilowatt project on Grand Canary and three more roof-top plants totalling 500 kilowatt are being constructed for a fruit and vegetable wholesaler in Antigua on the volcanic island of Fuerteventura. Conergy is acting as general contractor of the plants and is also supplying the components.
In the future, some 2,000 Conergy PowerPlus modules for the three power plants installed on approximately 3,400 square metres of roof space on the storage buildings will generate around 900,000 kilowatt hours of clean electricity per year, making the local fruit and vegetables even greener in the holiday paradise which was declared a biosphere reserve by the UNESCO in 2009. The plants will also prevent some 740 tonnes of damaging CO2 being released – corresponding to the emissions of 290 holiday flights from Germany to the volcanic island off the West Coast of Africa.
"Like the other Canary Islands, Fuerteventura relies on agriculture and tourism," said Luis Jiménez Gutierrez, Managing Director of Conergy Spain. "Environmental protection and sustainability are of great importance for both sectors and influence the islanders' actions. Also, the sun-kissed islands are virtually predestined for solar power. In most instances, solar power is already considerably cheaper here today than electricity from the grid. No doubt there will be many more plants following our existing solar plants in the Canaries, which already total around 14 megawatts."