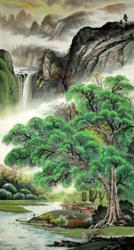 (PRWEB) January 10, 2013
Today, Artisoo.com, proudly introduces its Chinese Painting collection, and launches a promotion for its Chinese paintings, up to 10% off, to show their appreciation to their loyal customers.
Artisoo.com is offering a large collection of original hand-painted Chinese paintings, including landscape painting, birds&flower painting, figure Painting, animal painting, calligraphy painting and scroll painting.
Chinese painting (especially a Chinese landscape painting or Chinese bamboo painting) is one of the oldest continuous artistic traditions in the world. It has received great popularity in the world for its uniqueness and cultural richness and quite suitable for home decoration and personal collection.
Each Chinese painting from Artisoo.com is one piece of art, and meticulously painted by their talented artists. The finished work can be mounted on scrolls, such as hanging scrolls or handscrolls. Customers can choose their favorite paintings from a huge variety of choices by searching with a specific criterion such as artist, subject, style, or price.
In addition, Artisoo.com has launched a promotion for its Chinese paintings, up to 10% off, and customers can take advantage of these discounts for a limited time period (in Jan. 2013) only. Artisoo.com hopes to show their appreciation to their loyal customers for their support in the last few years.
About Artisoo.com
Founded in 2009, Artisoo.com is a professional supplier of oil paintings and Chinese paintings. The company has achieved success due to its striving for excellence in all aspects. They handle both interior painting and exterior painting for customers with the utmost attention to detail and dedication to quality.
For more details, please view: http://www.artisoo.com/