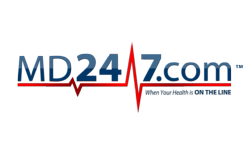 MD247 Alerts Members to Ripoffs.
Tampa Florida (PRWEB) January 10, 2013
MD247 issued an alert to all members of the telemedicine program on January 09, 2013 regarding the recent outbreak of influenza nationwide. The alert was intended to inform all program members of the illness, and provide a review of the efficacy of the influenza treatment Tamiflu.
MD247 warns that an illness with symptoms similar to influenza is sweeping the country, with the Centers for Disease Control and Prevention reporting that most areas around the country are experiencing high rates. 2013 will rival some of the worst years in recent history for reported cases of the flu.
MD247 reports that these illnesses can cause life-threatening complications. It is the worry over these complications that have lead many people to want to be prepared with some kind of treatment. There are people who will stockpile products like Tamiflu, an antiviral from Roche.
MD247 explains that the problem is that nobody really knows a lot about the effectiveness and safety of products like Tamiflu, and this matter is not being helped at all by the parent companies refusing to release any real world data. In an effort to provide data regarding the efficacy of Tamiflu, MD247 provided information from the Cochrane Group regarding their review of Tamiflu studies and thereby gave the public a list of information they "must know." Review the information, and make an informed decision about your use of Tamiflu.
The studies conducted by the Cochrane Group indicated that the researchers needed additional access to Tamiflu information before they could make any concrete conclusions about the treatment. They requested information from Roche, but the company has yet to comply.
MD247 understands that people across the United States face decisions every day regarding Tamiflu, and that number is increasing exponentially this winter, meaning that it would appear an easy choice for Roche to share all of their data. MD247 will continue to share information regarding treatment of influenza-like symptoms over the next several weeks, making a point to provide MD247 reviews of potential ripoff treatments.
Largo Florida based MD247.COM (MD247; MD/247; MD 247; M.D.247; MD-247) provides an affordable telemedicine supplement to existing healthcare services. MD247.COM telemedicine program members have unlimited telephone access to a nationwide medical support team, all with just a single phone call to the MD247.COM telemedicine Chat With a Doctor/Talk to a Nurse Hotline. MD247.COM has a virtual platoon of registered nurses; board certified physicians and a support staff available to members for all non-emergency situations. More information about MD247.COM is available online at http://www.md247.com.