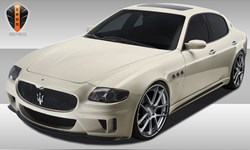 La Puente, CA (PRWEB) January 10, 2013
The webmaster at ILoveBodyKits.com recently made the new Duraflex body kits page active, allowing people to not only learn about these products, but also find exactly what they are looking for. Shoppers can now sort through these kits, which are made of advanced polymer base resin mixed with imported glass fibers, right on one page.
At the top of the new home page for Duraflex body kits, a customer can read more about why these products are so popular. After that, they will see a huge list of options for each car company out there. For example, there are currently 15 body kits for different types of Toyota cars.
Once a person finds what they want, they can be assured that the pricing on ILoveBodyKits.com is below MSRP. The website values itself on providing customers an affordable solution for all their automobile needs.
Along with body kits, the website also offers other accessories, as items for basic maintenance such as performance exhaust system. To learn more about everything currently being sold and featured, take a visit at http://www.ilovebodykits.com/info/35/Duraflex-Body-Kits.html.
About ILoveBodyKits.com:
ILoveBodyKits.com provides shoppers with the best opportunities to land affordable upgrade or replacement parts for any car on the market. With express shipping and the lowest prices online, customers always know they can save time and money shopping on this website.