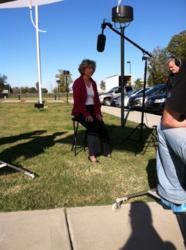 I've been a veterinarian for 25 years and it's heartbreaking to see so many pets surrendered to shelters because the cost of treatment just wasn't in the family's budget.
Seattle, Wash. (PRWEB) January 10, 2013
Trupanion, the leading provider of pet insurance in North America, today was featured on the popular home improvement series Designing Spaces™ on Lifetime Television, as part of the "Designing Pet Spaces of Hope - Adopt A Shelter" series. The series profiled the McKamey Animal Center, an animal shelter in Chattanooga, Tenn. that housed 8,400 homeless animals in 2012. Dr. Kerri Marshall, Chief Veterinary Officer at Trupanion, was interviewed for the show on the importance of pet insurance for shelter pets.
"One of the biggest problems we have at the McKamey Center is people having to relinquish pets because they just can't afford the care that they need if something happens to them," says Karen Walsh, Executive Director at McKamey Animal Center.
According to the National Council on Pet Population Study and Policy (NCPPSP), 4,336,244 pets entered U.S. animal shelters in 1997 (the last year the survey was conducted) and a staggering 63.6% of those pets were euthanized.
Dr. Marshall believes that pet insurance will help ensure that pet owners will not have to relinquish their pets due to high veterinary treatment costs, and ultimately keep the family unit together.
"I've been a veterinarian for 25 years and it's heartbreaking to see so many pets surrendered to shelters because the cost of treatment just wasn't in the family's budget," said Dr. Marshall. "With a company like Trupanion that pays 90 percent of the veterinary bill with no payout limits, you don't have to give a second thought to always getting the best care."
McKamey Animal Center now offers a 30-day trial of pet insurance through Trupanion to all of their adopters in the hope that more pet owners will continue coverage and be able to keep their new pet in their forever home regardless of any costly illnesses and injuries they may develop.
"With pet insurance, you are able to choose the best and most appropriate treatment plan for your pet without the financial burden you'd have to carry without a financial safety net," says Dr. Marshall. "Pets now have the opportunity to live longer, healthier lives, which in turn allows us to share that special bond with our pets for longer. It's important to protect it."
The show premiered today, January 10, 2013, and will re-air on March 14, 2013. Find out more at Trupanion.com/DesigningSpaces.
About Trupanion®
Trupanion is an industry leader in pet insurance, offering cat and dog insurance in the United States, Canada and Puerto Rico with the mission of delivering financial peace of mind to pet owners. Trupanion offers a simple, customizable pet insurance policy with 90% coverage for diagnostic tests, surgeries, medications, hospital stays, and alternative therapies for the treatment of accidents or illnesses. Trupanion's policy includes coverage of hereditary and congenital conditions with no payout limits per incident, per year, or over the lifetime of the pet.
Trupanion is underwritten by the American Pet Insurance Company, which has earned a Financial Stability Rating of A, Exceptional, from Demotech, Inc. Trupanion is a founding member of the North American Pet Health Insurance Association (NAPHIA), demonstrating a commitment to high standards and transparency in all actions and products. For more information call 800-569-7913 or visit Trupanion.com. You can also follow Trupanion on Twitter or Facebook.
About McKamey Animal Center
McKamey Animal Center in Chattanooga, TN, first opened its doors to the city's homeless pet population in July 2008. A leader in animal welfare both locally and nationally, the nonprofit shelter's mission is to enhance the lives of companion animals and people by encouraging a culture of responsibility and compassion. As an open admission facility, the Center provides animal services and care for any animal in the city of Chattanooga regardless of age, breed, health, and temperament. McKamey has a number of thriving programs to benefit companion animals and people including adoption, foster, rescue, trap-neuter-return for feral cats, and humane education. For more information on McKamey Animal Center, or to support their lifesaving work please visit http://www.mckameyanimalcenter.org.