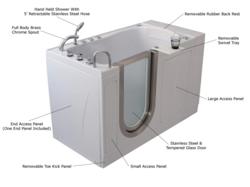 We are excited to offer this detailed partners page that will help our customers easily learn about the quality brands we offer.
Los Angeles, CA (PRWEB) January 10, 2013
Aging Safely, a national supplier of bathtubs for senior citizens and mobility impaired individuals, is pleased to announce that it has a new partners' page for its walk bathtubs shopping cart website. The partners' page makes it easy for shoppers to identify Aging Safely's ADA shower and tub manufacturers.
Currently, the shopping cart website has four authorized ADA shower stall and elderly bathtub manufacturers on its partners' page. On the left hand-side of the partners' page, offerings are listed from each manufacturer. Partners and shoppers accessing the page can see which walk bathtubs, ADA compliant showers, and safety grab bar products are available to help customers age in place more successfully.
The shopping cart website currently features six offerings manufactured by Best-Bath, including three hydrotherapy spa packages, one walk in shower for wheelchair bound customers, one roll in shower and a safety grab bar page. The Ella's collection includes several hydrotherapy elderly bathtub products. A soothing massage can potentially help make aging in place easier and more enjoyable, but many customers also find a regular soaking tub convenient. Another featured partner is Hydro- Dimensions; purchasers can choose from six Hydro-Dimensions walk bathtubs. In addition the website features three MediTub senior care tubs. The ADA shower products and bathtubs for senior citizens offer aging in place technology, fall prevention safety features and style that enhances aging at home. The selection gives purchasers options when they are confronted with budget concerns and space confinements when choosing the right elderly bathtub.
According to the company, all partners' ADA shower products, with or without hydrotherapy, are 100 percent guaranteed. All brands offer a lifetime no leak door warranty and walk bathtubs and ADA compliant showers are available for delivery only through the website. The shopping cart website, combined with Aging Safely sales staff, offers unsurpassed service to help customers select an appropriate elderly bathtub or safety grab bar that suits their unique situation. Aging Safely works with partners to offer their ADA shower products and elderly care tubs at considerable savings.
The shopping site continually seeks to expand their product line to offer customers more bathing options. Aging Safely has professional consultants that are trained on assisting customers at selecting a product that is right for them. There being numerous sizes and styles available, it important to consider many variables when choosing the proper appliance.
Tye Wennstedt
info(at)walkbathtubs(dot)com
720-495-5497