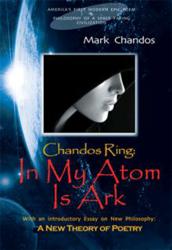 Los Angeles, CA (PRWEB) January 11, 2013
In a provocative epic poem that seamlessly arbitrates between modernization and the future of humankind, American poet-philosopher Mark Chandos unravels the unparalleled achievement of imagination and language. In the third volume of the "Exodus From Sapiens" trilogy titled Chandos Ring: In My Atom Is Ark, he probes the most painful aspects of American Exceptionalism and our imperial conquest of all other world cultures. Chandos make clear arguments for the reformation of modernism—clearly showing that Western modernism is a philosophical dead end—and gives America a narrative of future life in manners, philosophy, mores, and behavior. It is an exciting story.
Previous to the epic poem, Mark Chandos introduces A New Theory of Poetry where he establishes a radical critique of American linguistic usage. How can modern poetry ignore science and yet modern poetry still claim to be an important genre of art and communication? In this bold and challenging new volume, he reveals where modern poetry fails the contemporary generation of poets. Chandos discovers the linguistic schism of American society. The results of his thesis show that speech is prophetic, and that epic poetry, alone, formulates the idiom of consciousness. This is the first modern Theory of Poetry ever written in the West.
Chandos Ring: In My Atom Is Ark continues the spell binding story of "Exodus From Sapiens." It continues the narrative of how humans' terraform new human life on Jupiter's moons. The book follows the charismatic Aaron as he leads 30 ships from a dying Earth to Jupiter's moon Callisto. They build hundreds of factory ships that surround Callisto, forming Ring Station. A revolution is made when 300 Slavic girls arrive in ships led by Vargus, Aaron's second in command. Aaron secretly has a plan to improve the genes of Homo sapiens to create a new race called Homo Faustus. His military mission is to reconstruct the large moon of Jupiter, Europa, into a habitable planet for his new creatures (Homo Faustus). This new race discovers that the human mind operates on the astral plane. They will fill the Galaxy and radically reconstruct the universe on their own terms.
In America's first science-fiction epic poem, Chandos has woven a classic story, filled with fabulous images of future Western men in space, that accepts and describes science—and reveals the crisis of toxic modernism. Chandos' work demonstrates that, in reality, science represents the greatest achievement of American poetry. He shows that poets should not fear (or ignore) science but embrace with power the linguistic brilliance of science. Chandos' discovery that the human mind actually operates on the astral plane is a discovery that opens up the possibility of new forms of human life. More than that, this book proves that there is a great achievement in American literature never reached by a single poet before. Exhibiting a language so original and fresh the reader with discover that no other modern book is like Chandos Ring.
About the Author
Mark Chandos, the author of Story Theory, claims that human reality is a phenomenon of our linguistic consciousness. He states that the universe will not be understood until consciousness is understood. He believes that epic poetry is the highest expression of human ideation, and that all civilizations are linguistic creations based on the epic texts (bibles, myths, political and scientific narratives). In his view, science is not empirical but operates as imaginative poetry. He believes that only our generation is able to understand the real meaning of the combined narrative of all epic literature, from Gilgamesh, to Homer, to Milton. He shows that all of human myth, including all epic poetry, contains a map of cosmology.
Chandos Ring * by Mark Chandos
In My Atom Is Ark
Publication Date: October 2, 2012
Trade Paperback; $ 19.99; 399 pages; 978-1-4797-1883-2
Members of the media who wish to review this book may request a complimentary paperback copy by contacting the publisher at (888) 795-4274 x. 7879. To purchase copies of the book for resale, please fax Xlibris at (610) 915-0294 or call (888) 795-4274 x. 7879.