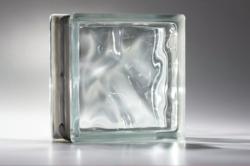 Morris, IL (PRWEB) January 14, 2013
"Functional glass brick, is this guy off his rocker? Does he realize that it is mortared in place and can't move"? Sure, but It is natural to associate functionality with a moving part but if great thought is really given to the different purposes a brick or even glass brick can serve, a better understanding of the term functionality will emerge and thus a better preparation for any planned remodeling project that can make use of the many benefits a glass brick can provide.
A brick in itself serves many functions such as noise reduction or sound barrier. They serve as a protective barrier from the many forces of nature like rain or snow and even an insulator. Glass bricks, or more commonly known as glass blocks, serve several more purposes than an ordinary brick, as many architects have discovered since glass blocks were introduced in the early 1900's. An architect will design a structure while accounting for several factors like functionality and efficiency. Being able to account for the positioning of the sun, the amount of natural light, the technical specifications of any given product and the choices available that meet the goals of any project sounds like a difficult task. But on a small scale project like a home or bathroom remodel where occupancy and structural integrity are non-factors, this simple checklist will keep it simple.
First, how important is light transmission for the selected area? Glass Block windows and glass block shower enclosure projects would most likely have light transmission as a high priority. A glass block bar or partition wouldn't really require light transmission. But before shopping for a glass brick just yet, that allows a lot of light through; consideration needs to be given to step two. How much privacy is needed? Much like an obscure window in a bathroom, people want their privacy. Luckily, the physical properties of glass bricks allow for use in many situations. With a multitude of designs and colors, getting the right effect in the right room while utilizing all the available functions of glass block will result in awe inspiring final result. But there is still another factor to consider, and it may be the most important function; energy efficiency. Not sure how many situations where efficiency is a concern for interior projects, but for those that are looking for efficiency, privacy and light transmission for a window project, then glass blocks are definitely the way to go.
Quality Glass Block and Window have the experience, knowledge and expertise to help design any glass block project. From energy efficient glass block to color glass block, all of the products, descriptions, uses and technical details can be found online at http://www.qualityglassblock.com.
Quality Glass Block and Window Company
Quality Glass Block and Window Company is a leading provider of glass blocks used for windows, shower enclosures and vents. In addition to wholesale glass blocks, Quality Glass Block and Window Company provide installation services or guidance for do-it-yourself builders and homeowners.