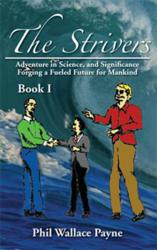 Lompoc, CA (PRWEB) January 10, 2013
Civilization is in an energy crisis. Human beings have wasted away the majority of earth's fuel resources; without energy, the world of mankind will revert to the horse and wagon age. Many people will die.
Who will come to the rescue? In secret, a technical team of geniuses has developed a way to harvest enormous and never ending energy from large polar sea waves. In concept, their mission is simple; in delivery, it proves to be difficult and possibly tragic. The Strivers written by author Phil Wallace Payne tells a story of life, loves, and labors undertaken by a brave few who work to capture and convert ocean wave energy to Hydrogen, the ideal fuel. From diverse backgrounds, the team is brought together by a shared mission; Working together, relationships evolve that never would have flourished without the world energy crisis. They are inventors, but they are also human beings looking for success in an inhospitable place – on savage seas. With luck, the team will find a way to convert ocean wave energy into inexhaustible fuel for mankind: Hydrogen.
If they fail, they may not only lose their own lives, but they will fail Humanity.The future of humans is in hands of The Strivers. They must harness the fury of large seas to save the modern world. Will they succeed? Or will weakness of their humanity make them fail?
The Strivers is a compelling novel based on facts about the sea and its energy resources. It is inspired by Payne's direct experience: transoceanic sailing, his use of hydrogen fueling rockets, and his directing many rocket launches to space, as well as in deep forethought, strong technical achievementss, and accidents of acquaintanceship. In this narrative, the past which precedes the present will arrive before the reader's eyes dustily through words and pictures. It will come in those forms as readers turn the pages of his book.
This book narrates human events to readers in both hemispheres of the earth, North and South. It is Payne's work of adventure in technology, yielding perspective thoughts, great recognition of opportunity, and life-changing aspirations. It is a tensing tale of doing the almost impossible, but real in nature of winds, works, and human lives, for those who face boldly the next great threat to human dignity across the world: fossil fuels exhaustion.
Furthermore, this narrative will portray a picture of human beings in joys and sorrows, in loves and logic, the highest acts of living and also in depths of despair. It shows years of trust, honor, esteem –– all elements that accrete the comfortable and conceiving situation, which mankind has come to call civilization. As well, it will show moments of mendacity of mankind in gross ignominy, death, maiming, in throes of native inhumanity –– the pre-human degradation forces that require constant driving out from the camp of culture. Likewise, this book presents the flowering and fruition of the human mind, but nourishes its diseases that lead ultimately to its weeding. It depicts acts that are grim, however later to be hallowed, delineates potentials and products of life as well as torments of death, draws the image of death not as caricature of fear, rather as something significant for those who live on.
For more information on this book, interested parties may log on to http://www.Xlibris.com.
About the Author
As a rocket scientist, Phil Wallace Payne directed more than 105 space launches, where he gleaned an extensive knowledge of different fuels. He has been a trans-oceanic navigator, sailor, and sea diver for many years. He currently lives on the coast of California.
The Strivers * by Phil Wallace Payne
Adventure in Science, and Significance Forging a Fueled Future for Mankind Book I
Publication Date: July 31, 2012
Trade Paperback; $66.99; 318 pages; 978-1-4771-1497-1
Trade Hardback; $62.49; 318 pages; 978-1-4771-1498-8
To request a complimentary paperback review copy, contact the publisher at (888) 795-4274 x. 7879. To purchase copies of the book for resale, please fax Xlibris at (610) 915-0294 or call (888) 795-4274 x. 7879.
For more information, contact Xlibris at (888) 795-4274 or on the web at http://www.Xlibris.com.