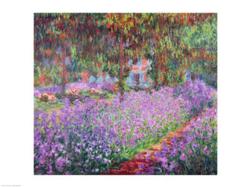 Delray Beach, FL (PRWEB) January 10, 2013
BandagedEar.com, an online art gallery and retailer, added dozens of new Monet art prints to its repertoire of online products. Claude Monet is one of the founders of impressionism. In fact, his painting, "Impression, Sunrise" was the inspiration for the name of the impressionism artistic movement.
In addition to some of his most famous paintings, such as "Water Lilies" and "Madame Monet and Her Son", BandagedEar.com added additional art prints, such as "The Artist's Garden at Giverny" and "Poppy Fields".
Vladimir Safin, BandagedEar.com co-founder, said, "Claude Monet is one of the most well-known artists who created timeless art. Monet art prints coordinate with modern, traditional or transitional room decor, so it withstands the test of time. BandagedEar.com is proud to introduce a wider selection of Monet art prints for our customers to enjoy."
In addition to selling prints, BandagedEar.com also frames art prints at a fraction of the cost when compared to local frame shops. All of the new Claude Monet art prints are also available with a framing option. The framed art prints are made in the United States with high-quality framing materials.
About BandagedEar
BandagedEar is an extensive online wall art gallery and community site where art lovers can shop from among thousands of carefully selected art prints and posters. In addition to high-quality art prints, BandagedEar.com offers free tools to help customers discover new art and artists. A custom frame shop allows customers to choose a high-quality custom frame, which typically costs less than local frame shops. Choose from among millions of different configurations by specifying the frame, matting, cropping and glazing. All purchases are backed by a 100% satisfaction guarantee. Please visit http://www.bandagedear.com for more information.