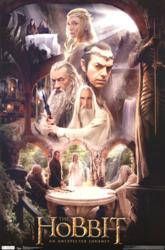 Delray Beach, FL (PRWEB) January 11, 2013
PosterNation.com added new posters to its inventory that feature characters from the movie, The Hobbit, which is already a blockbuster success. The Hobbit movie posters became available just in time for the movie premier in 2012, but sales continue to skyrocket as the popularity of the movies continues to grow.
Vladimir Safin, co-founder of PosterNation.com, said, "We are thrilled with the new Hobbit posters. In addition to The Hobbit, we also have a Lord of the Rings posters for customers who are fans of the whole series of movies. In addition to adding products for this particular movie, PosterNation.com has increased its overall selection of new and classic movie posters."
PosterNation.com offers framing options for all posters on its website. With millions of different framing configurations, customers can customize their purchases. Regular discounts offered ensure that framing art prints with PosterNation.com costs a fraction of the price when compared to local frame shops.
About PosterNation.com
PosterNation.com offers thousands of high-quality framed art prints and posters featuring themes that include: sports, movies, music, pets, animals, travel, motivational topics, hot people, vintage celebrities and more. The frame shop allows customers to customize their purchase by selecting the cropping, matting, framing and glazing for a framed art print or poster. Please visit http://www.PosterNation.com for more information.