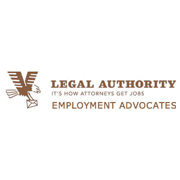 "ADP figures show 37,000 jobs added in professional/business services, reflecting increased demand for legal services."
Pasadena, CA (PRWEB) January 10, 2013
The ADP released its employment figures for December last Thursday, indicating that 215,000 jobs were added to the U.S. economy in December. 37,000 jobs were added in professional and business services, a category that includes legal services. Growth in the legal sector is independently supported by job opening data from Legal Authority.
Legal Authority, a leading legal jobsite, constantly monitors and tracks the openings in the legal job market and initiates targeted mailings on behalf of job seekers to legal employers. The hiring data from Legal Authority reports 16,771 law firm openings and 10,656 in-house legal job openings as on date. The job site also reports 13,856 legal job openings in government organizations and 2,825 legal jobs in public interest organizations.
According to labor statistics released by ADP, private sector employment added 215,000 jobs in December. Service-providing industries added 187,000 jobs in December, and medium businesses of 50-499 employees saw the most employment gains, with 102,000 of December's jobs coming from this category. The ADP figures highlighted growth in the professional and business services, with 37,000 jobs added December in a category that includes legal sector employment.
This increased demand comes at a time when the legal industry has been beleaguered with news of a difficult job market, particularly for entry-level lawyers. The December figures indicated modest growth in the legal market and were particularly welcome news for recent law school graduates.
As the economy begins to pick up, certain sectors of law have shown increased demand. Transactional attorneys and those with experience in real estate are experiencing particular demand for services. "We have been seeing considerable growth in transactional law," says Harrison Barnes, CEO of LegalAuthority.com. "This is a direct result of business activity picking up. We've also seen demand for real estate attorneys, especially those with finance experience."
As the housing market continues to recover and properties become available on the market, many of these transactions can be complicated, involving knowledge of mortgage securitization sand bridge loans that goes beyond the breadth of a typical real estate agent. Demand for real estate legal services has come about as a result. In a similar vein, transactional law has grown as recovering businesses rely on corporate attorneys to decipher larger, more complex business deals, like mergers and acquisitions.
Employment in the legal sector is forecast to grow even stronger in the next few weeks, as hiring for legal professionals is traditionally slow between Thanksgiving and New Year and picks up again in January after law firms finalize their annual hiring budgets. Attorneys who are thinking about leaving may choose to do so in January, after receiving their end-of-the-year bonuses, which opens up more positions and adds to the fluidity in the legal market. Congress' last-minute passage of the budget bill this week may also spur hiring by employers who have waited to bring in new employees due to uncertainty over the fiscal cliff. All of this spells good news for recent law student graduates looking for employment in what has been an admittedly tough job market. Law student jobs may still not be at the numbers they were at a decade ago, but based on the most recent employment figures, there is growth if you know where to look.