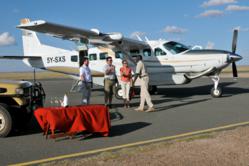 Mombasa, Kenya (PRWEB) January 11, 2013
The Kenyan tour operator "Scenic Air Safaris" has launched an online competition during which participants have a chance to win a seat on a luxury air safari. The competition is scheduled until the end of January. The winner can join a one week luxury air safari with one or more travellers and Scenic Air Safaris will take over the costs of one traveller. The dates of travel can be freely chosen with the condition that the safari has to take place within one year after the winner has been contacted.
The winner will be joining the luxury "Out of Africa Air Safari", a luxury 7night / 8day air safari that starts either Nairobi or Mombasa and goes to Tsavo East, Tsavo West, Amboseli and the Masai Mara. During the tour the guests will stay in some of the best lodges in Kenya and experience a true African safari. During the flights or on long game drives the guests will have the opportunity to spot the wildlife or discover the beautiful sceneries and landscapes that have formed over time.
To enter the competition, potential participants should visit the news section of the website http://www.scenicairsafaris.com where they will find more details. More information about the company and its luxury safaris can be found online.
Scenic Air Safaris, which currently owns two private luxurious aircraft, wants to become the industry leader in customer service. The company founded in 2009 is the first tour operator in Kenya that offers luxury flying safaris and currently operates a number of different air safari tours. Both aircraft are also available for charter flights in Mombasa and Nairobi. It was set up after the owners decided to take their passion for flying and wildlife safaris and create a product that would allow travellers to experience the very same. For more information about the company and their luxury air safaris visit http://www.scenicairsafaris.com.