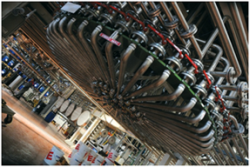 Preactor has proved to be suitable for typical chemical companies' manufacturing operating processes.
~Luigi Malinverno
Como, Italy (PRWEB) January 10, 2013
PAINT manufacturer Lechler S.p.A. is celebrating major improvements to its production process thanks to a successful project to introduce Preactor scheduling software.
Based in Como, Italy, the firm has achieved an impressive 20 per cent reduction in manufacturing lead times over the past year.
Other improvements include increased reliability of delivery dates for customers, a reduction in the amount of time staff spend scheduling work, and increased productivity.
Lechler, which employs more than 400 staff across its manufacturing sites in Como and Foligno as well as its subsidiaries in France, Germany, Spain and the UK, undertook a lengthy selection process before deciding to implement Preactor 500 APS software to help with advance planning and scheduling in its plants.
Lechler site manager Luigi Malinverno said: "We felt a need to improve our ability to manage the production process and to reduce the time spent preparing and updating the production schedule, in order to become more reactive and punctual."
Specific needs for the company included the ability to swiftly switch between fulfilling sales orders and manufacturing stock piles for the warehouse. It also needed to work out how to best utilise the capacity of a series of storage containers, while at the same time not producing so much paint it couldn't be stored.
In order to implement the software, Malinverno worked with proe2, a local partner of The Preactor Group, worldwide leader in planning and scheduling solutions.
The Preactor family of scheduling products allows companies to schedule production to make optimum use of finite resources to meet manufacturing deadlines.
By gradually bringing the software into use, the team was able to constantly improve the data that was fed into the software to make it work in the best way for the firm. It also meant that Preactor could be integrated with Lechler's existing IT solutions including SAP.
The resulting bespoke software means it is easy even for staff who aren't skilled in using it to update schedules or add new work orders without any specialist knowledge of the system.
"Preactor has proved to be suitable for typical chemical companies' manufacturing operating processes," said Malinverno.
"The problems and constraints of the business can be modelled beyond the pure capacity utilization of resources."
About the Preactor Group
The Preactor Group of companies represents world leadership in production planning and scheduling software used by a wide range of businesses. Frequently integrated with ERP, MES and Supply Chain Management solutions, Preactor's breakthrough technology is used by more than 4,000 small, medium and large multinational companies located in 75 countries.
The Preactor Group and its subsidiaries have established partnerships with more than 400 companies located around the world to provide local expertise to support the implementation of the solution for each company. These 1000+ accredited professionals offer a key resource working closely with users to ensure each company's unique requirements are met.
The current trends in manufacturing are towards lowering inventory levels to reduce costs yet still being able to respond to shorter lead times to satisfy customer demand. Preactor offers a family of applications ranging from mid- and long-term capacity planning to detailed scheduling and is translated into over 30 languages.
Preactor celebrates its 21th anniversary this year. For more information about Preactor, visit the website at http://www.preactor.com and follow on Twitter at http://twitter.com/Preactor.