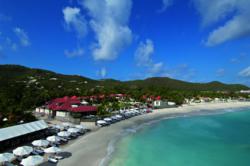 relax and embrace all that 2013 has to offer
London (PRWEB) January 11, 2013
1. Eden Rock- St Barths, Caribbean
Don't hold a grudge! Let by-gones be by-gones and don't hold a grudge against last year's fall out or even that break up! Simon Cowell displays how it's done on holiday with his ex-fiancé Mezghan Husainy in the Caribbean. And how could there be any ill feeling in the air in such a stunning location? Head to the exquisite Eden Rock in St Barths where each of the fabulous 32 cottages, rooms and suites have been individually designed and furnished and boast quirky features such as an open shower carved out of the rock. There are also 2 ultra-modern villas which form part of the Eden Rock Estates. Follow in Simon and Mezghan's footsteps as they frolicked on a yacht and escape with a picnic to a secluded bay on one of Eden Rock's fleet of luxury boats.
2. The Lodge- Verbier, Switzerland
Try something new! It's surprising to think that the Queen of pop Madonna could have left any stone unturned and not tried absolutely everything. But this past month Madonna tried skiing for the first time in Switzerland. Whilst Madonna may not have mastered the art, she did pick some of the best slopes to test her talent which houses some of the most luxurious chalets and resorts. Head to Sir Richard Branson's mountain retreat, The Lodge, which is perched high in the Swiss Alps, just a five minute walk from the town of Verbier. The lodge consists of nine stunning bedrooms and suites and there is the option to book it on an exclusive-use basis. Whether a seasoned pro or a new starter like Madonna Verbier is an absolutely fantastic resort to hit the slopes.
Get rewarded for hard work! While Strictly Come Dancing may be frivolous weekend TV for most its intense hard work for those involved! After weeks of intense training, tears and twirls, Strictly Come Dancing star Denise Van Outen rewarded herself with a trip to Dubai. No surprises since Dubai plays host to some of the most opulent resorts and is the ultimate place to unwind and relax. Burj Al Arab is Dubai's 7* flagship hotel and guests can arrive in true style (Rolls Royce or helicopter). The legendary billowing sail design of this 321 metre high hotel is illuminated differently each night and since the hotel is located on a private island, the Burj Al Arab promises secluded sunbathing and tranquil dips in private pools. Boasting 202 luxurious duplex suites with spectacular views over the Arabian Gulf and rolling desert, the Burj Al Arab offers the ultimate in high living. Now that is a reward worth working hard for!
4. Le Portetta Hotel, Courcheval 1650
Embrace the romance! Jason Statham may be as hard as nails stuntman to the public but off camera it's a different story. The action man was recently spotted enjoying a romantic getaway in the French Alps with girlfriend Rosie Huntington-Whiteley. With such a stunning backdrop its hard to ignore those fluttery feelings and go all warm and fuzzy…Quintessentially Travel wants to embrace it. Head to Le Portetta Hotel in the heart of Courcheval; this ski-in / ski-out hotel offers a stylish and luxurious environment whilst successfully maintaining its warm, family friendly ambiance and intimate charm. Designed with cosy luxury in mind, all 38 guest rooms at Le Portetta's Hotel overlook either piste or mountain, ensuring that the beautiful backdrop of Courcheval's undulating mountain ridges is ever present.
Exercise can be fun! Alexander Burke has been soaking up the winter sun in Miami and was recently spotted racing and running on the beach into the sea with friends. Follow in her footsteps with a stay at the Mandarin Oriental, Miami which provides a waterfront urban oasis that is ideally located on the prestigious island of Brickell Key. The hotel features stunning water views and easy access to South Florida's most popular attractions. Keep active on the beach or indoors in the fully-equipped fitness centre. Additionally there is Yoga, Pilates or even Belly Dancing to get those endorphins pumping.
Sticks and stones…Keep positive! Despite being on the receiving end of a lot of negative backlash for their relationship, Mary-Kate Olsen and boyfriend Olivier Sarkozy (half-brother of Nicholas Sarkozy) have defied all odds and negativity and been dating for over 8 months. Despite the rather large age gap between the two, they were recently spotted looking completely smitten with each other, but it's hardly surprising since they were in one of the most romantic cities in the world, Paris. Find love with a stay at Le Meurice in the heart of Paris and a short walk from Paris's most famous landmarks including the Louvre. 160 beautifully appointed rooms are decorated in a style redolent of Louis XVI. For the ultimate romantic hideaway there is the Marco Polo Suite situated under the eaves. The unique open bathroom at the end of the suite, the swathes of silk and poetic French style simply breathe romance.
About the Company:
Quintessentially Travel is a sister business of Quintessentially, the leading international luxury lifestyle company. Launched in 2000 as a small London based concierge service, Quintessentially (http://www.quintessentially.com) has experienced a complete transformation in a decade, and currently have offices in over 64 cities around the world. The service provided to their discerning and HNW members is proactive and personalised, catering to every member's need, from last minute restaurant bookings, travel arrangements, and access to private parties, as well as fulfilling every unusual request and successfully connecting businesses all over the world. Quintessentially can offer access to the inaccessible and can make the seemingly impossible, possible. In a bid to ensure only the very best service is delivered across the luxury market, Quintessentially has also launched 32 luxury sister businesses comprised of experts in every luxury division. This includes real estate, travel, luxury retail, wine, art, flowers, private aviation and more (http://www.quintessentiallygroup.com).