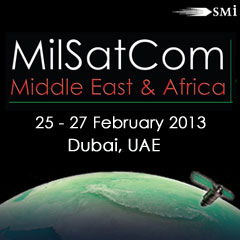 London, Dubai (PRWEB UK) 10 January 2013
SMi Group are pleased to announce Group Captain Lanre Oluwatoyin from the Nigerian Air Force has joined the expert speaker line-up at the two day event. He will be presenting on "Armed Forces of Nigeria (AFN) MilSatCom: Exploring New Capabilities."
The two day event will provide a comprehensive overview of regional programmes, hosted payloads, MilSatCom solutions, international cooperation, pooling commercial and military assets, SatCom for UAVs and development of satellite technologies in the MEA region.
Attendees will be able to learn about the latest security and communications challenges faced by one of the world's most forward-moving markets.
18 speakers from leading organisations will deliver case-studies and presentations to include Qatar Armed Forces, Nigerian Air Force, UK MoD, National Authority for Remote Sensing and Space Sciences (NARSS) Egypt and European Defence Agency and more. There will also be a post-conference site visit to Sharjah Primary Gateway and Thuraya HQ taking place on the 27th February.
The event follows on from Global MilSatCom which is the 15th in its series and Europe's leading military satellite communications conference & exhibition. Last year the event saw new breaking attendance records.
Dale Butler, SMi Group's Managing Director commented "The Global MilSatCom event has developed into a truly global forum, attracting attendees from over 30 countries and every continent. The success of the London conference & exhibition has led to the launch of regionally focused events in Singapore starting two years ago and now Dubai. We are extremely excited by the opportunity to launch this event in the Middle East with Thuraya as our Lead Sponsor."
Robert Demers, Vice President of Government Services, Thuraya, the events lead sponsor commented, "Thuraya has been a global satcom technology innovator and provider since 1997. We understand the specific requirements of our Defense and Security clients and work closely with them to provide reliable, dependable, high quality voice and data solutions. By sponsoring events such as MilSatCom Middle East & Africa, we can provide our customers and industry experts with a forum to meet and discuss trends, technological advancements and future requirements. This is in line with Thuraya's mission to provide the best technologies and services to our customers."
For the full conference programme and further information please visit: http://www.smi-online.co.uk/milsatcom-mea10.asp
Alternatively contact James Hitchen: Tel +44(0) 20 7827 6054 / Email jhitchen(at)smi-online(dot)co(dot)uk
Sponsorship opportunities are available for this event, please contact Alia Malick on +44(0) 20 7827 6168.
---------------------------------------------------------------------------------
About SMi Group
Established since 1993, the SMi Group is a global event-production company that specializes in Business-to-Business Conferences, Workshops, Masterclasses and online Communities. We create and deliver events in the Defence, Security, Energy, Utilities, Finance and Pharmaceutical industries.
We pride ourselves on having access to the world's most forward thinking opinion leaders and visionaries, allowing us to bring our communities together to Learn, Engage, Share and Network. We hold events in over 30 major cities throughout the world including London, Paris and Singapore and to date and have welcomed over 200,000 participants from 80 countries.
For more information, please visit http://www.smi-online.co.uk