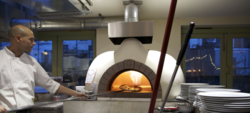 Being able to observe your food being cooked before your eyes is a unique dining experience, one that many customers seem to return to enjoy time and time again.
(PRWEB) January 16, 2013
Many business owners in the hospitality industry are eagerly searching for the hottest and very latest in dinning trends to spice up business and remain viable this 2013. One concept, which certainly is continuing to heat up are commercial stone ovens, particularly those by the Stone Bake Oven Company.
Adding a new dimension to commercial kitchens and restaurants, wood fired ovens are fast becoming a source of inspiration for new menu's and restaurant renovations, for a unique cooking experience that reaches far beyond just pizza.
Wood fired ovens vary from conventional ovens in many ways, from the dry, intense heat from burning wood, to the ability to crisp up breads and pizza's on their stone floors. Its true wood pizza ovens are the only way to cook authentic pizza, but wood fired ovens can also vary in temperature range drastically, able to cook pizza in less than 60 seconds, to roasting meat, grilling vegetables, and even baking breads in house. With incomparable results to conventional ovens, wood burning ovens can also hot and cold smoke.
Overall wood burning ovens can add a unique dimension to a range of foods, menu's and establishments.
What sets the Stone Bake Oven Company apart, other than their sterling reputation throughout the UK and Europe, is all their wood fired ovens are made and manufactured in the UK. Efficiency and heat retention is where the Stone Bake Oven Companies range of wood fired ovens excel with very low wood consumption, low running costs and an oven that can retain its heat over days.
The Stone Bake Oven Company also have Micro- Mesh Technology exclusively designed, which ensure each oven is built to last.
The biggest aspect creating interest in wood fired ovens today appears to be the direct impact on diners and clientele. "Customers feel they are getting a quality product, honestly cooked" says Mr Fowler, from the Larder House Restaurant, Bournemouth. Tom Gozney the Company Director said "eating food from a wood oven and being able to observe your food being cooked before your eyes is a unique dining experience, one that many customers seem to return to enjoy time and time again."
So for a creative culinary edge, or to add to a restaurants atmosphere with the theatre of an open fire, complete with cooking aroma's, and more, see the Stone Bake Oven Companies range of wood burning commercial stone ovens, which are also available in gas and gas/wood combinations. The Stone Bake Oven Company also sell a range of residential wood fired ovens and outdoor pizza ovens. For more information simply visit http://www.thestonebakeovencompany.co.uk