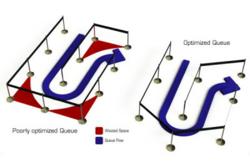 Tensabarrier Online now offers detailed diagrams and schematics displaying the most efficient methods and designs for use and setup
Pittsburgh, PA (PRWEB) January 14, 2013
The new Tensabarrier Online site was launched in November of 2012 and is making a splash in the New Year. Tensabarrier Online now offers detailed diagrams and schematics displaying the most efficient methods and designs for use and setup. As a trade mark of the Tamis Corporation, Tensabarrier Online representatives will also provide step-by-step assistance to help customers after purchase.
The launch of the new website, which offers quick and easy access to essential information on Tensator as well as premium post and rope packages and individual components for sale, is the latest wave in the company's ongoing effort to provide state of the art crowd control products.
The website boasts a modern, colorful design and is divided into three basic sections:
1) Information about the company and product history
2) Items and packages available to purchase
3) The Queue Blog – a new feature that keeps customers and industry specialists up to date on the latest T-Barrier trends and news.
The enhanced Product section affords visitors the ability to see every post and rope stanchion, base, display racks and accessories with larger images that allow for quick decision-making. It also provides detailed descriptions of each product with specification documentations and reviews from other buyers.
Because of its lightweight yet rugged design the Tensator post and rope stanchion system is the top choice for queue line crowd control everywhere. To see the all new Tensabarrier Online website please visit http://www.tensabarrieronline.com.