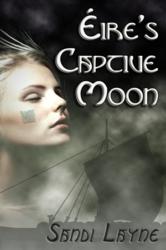 Arlington, TX (PRWEB) January 10, 2013
Éire's Captive Moon is the debut novel for Sandi Layne with The Writer's Coffee Shop Publishing House; however, she is already a successful author and has a devoted fan base. With her rich characters and fresh look at storytelling, she is gaining more readers every day. "I was pulled deeply into the past from the first page of this story set in Old Ireland.
Ms. Layne's characters are charismatic and powerful. I felt their pain, their fear, and their joy," says Kathie Spitz, acquisitions team member.
In addition to the sublime storytelling, Ms. Layne brings her audience enthralling themes that transcend genres. A clash of cultures that promises to lead to relationships that will change history.
Éire's Captive Moon brings you to the unsettled era of the early Viking raids along the coast of Éire—today's Ireland. A wounded refugee from the violent Viking raids on Éire's coast is healed by Charis of Ragor. Impressed with her healing abilities, Agnarr captures the moon-pale woman for his own and takes her home to Nordweg to be his slave.
Also captured is Cowan, a warrior gifted with languages. He is drawn to the Healer of Ragor and finds himself helpless before her. In more ways than one!
Through the winter, Charis plans a fitting vengeance upon her captor for the men he killed. She also prepares to return to Éire and the children she left behind.
But will her changing feelings interfere with these plans? When two men vie for her heart, will she give way before either—or both?
Book one in the series opens the door to a dramatic conclusion filled with love triangles and a quest to fulfill the destiny of their hearts.
About the Author:
Having been a voracious reader all her life, Ms. Layne never expected to want to write until the idea was presented in a backhanded manner. Once the notion occurred to her, though, she had to dive in the deep end (as is her wont) and began by writing historical fiction. She has since written more than twenty novels—most of which will never see the light of day.
Ms. Layne has degrees in English and Ministry, has studied theology, spent years as an educator, has worked in escrow and sundry other careers, but research is her passion. She won an award for Celtic Fiction in 2003, but as well as history, she is also fascinated with contemporary research and has self-published several novels in the Inspirational Romance genre.
She has been married for twenty years to a man tolerant enough to let her go giddy when she discovers new words in Old Norse. Her two sons find her amusing and have enjoyed listening to her read aloud—especially when she uses funny voices. A woman of deep faith, she still finds a great deal to laugh at in the small moments of the everyday and hopes that she can help others find these moments, too.
Interview talking points:

The strength of women to survive captivity, while triumphing and returning to their homes.
Love can be found in the most unlikely places.
Using multicultural environments to help portray the different world views.
How the author researched this historical topic to bring an accurate portrayal of her stories.
Eire's Captive Moon by Sandi Layne is available from Amazon, B&n.com, Kobo, and The Writer's Coffee Shop.
About the Publisher:
The Writer's Coffee Shop Publishing House (TWCS) is an up-and-coming independent publisher based in New South Wales, Australia. They recently gained a great deal of attention with Fifty Shades of Grey, the international literary sensation they released in June 2011 and is now represented by Random House.
Launched in October 2010 with the vision of working alongside talented authors while providing quality e-books to the growing marketplace, TWCS publishes a wide range of fiction titles and is sure to have something for any appetite.
Website: http://ph.thewriterscoffeeshop.com/