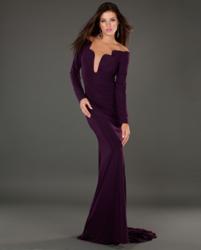 New York, New York (PRWEB) January 10, 2013
The weeks following the holiday season are always a drag. After weeks filled with holiday cheer and lavish parties, getting into the groove of a new year can be a little difficult. As the third week of 2013 approaches, Jovani Fashions is ready to lift spirits with the launch of their contest season.
Starting Monday, January 14, the New York-based fashion house will launch two contests for Jovani fans to win free stuff. Not to mention, fans will also have a chance to make a difference within their communities. From women looking to wear something fabulous at a dinner party, to girls searching for something fun and flirty for their next school dance, Jovani's contest week is giving everyone a chance to shine in their designer dresses.
The fashion house is tapping into the fast-paced world of blogging with their "I love Jovani" initiative. Bloggers who add the Jovani banner to their blog, and or write a post about Jovani's prom and evening wear designs, will be entered into a weekly giveaway for free Jovani gifts. Each and every week, bloggers who enter will win a chance to have their blog named blog of the week on all Jovani social media sites—reaching over 400,000 subscribers.
Jovani will also launch their "Comment to Give" contest this coming Monday. Fans who comment on their favorite Jovani dress on Jovani.com will be entered to win a $500 gift certificate to be used at their nearest retail store, which can be found through the "Where To Buy" page on the Jovani website. In addition, Jovani will also award the winning commenter with a $100 donation in their name to any charity of their choice. The "Comment to Give" contest is just one of the many ways Jovani is giving back to the community.
These two contests, including the "Become a Star" contest, which was launched in December, are giving fans worldwide a chance to look fabulous in Jovani's newest designs. From senior prom to a New York City gala, Jovani dresses make women feel and look their best.
Jovani's newest collection of designer dresses offers their diverse customer base with fabulous designs that combine classic glamour with the newest trends. From mixing luxurious fabrics such as velvet and lace, to creating dynamic one-of-a-kind couture pieces, Jovani has its sights set high for 2013.
Company
Jovani Fashions designs evening dresses perfect for any occasion. From their one of a kind couture designs to their signature prom dress styles, Jovani is a leader in designer evening wear and is available through 3,000 retailers worldwide, including Neiman Marcus. A favorite among A-list celebrities, Jovani is known for the quality and glamour of their garments. They continue to make designer dresses that will ensure their customers will always be the best dressed at any special event.
Contact: Felicia Garay-Stanton
Phone: (212) 279-0222