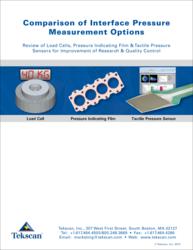 Boston, MA (PRWEB) January 12, 2013
Ever increasing global competitiveness and new technology require design engineers to deliver a high quality product. Measuring the forces between two surfaces is critical in solving many of the key problems faced by engineers involving product design and quality, manufacturing processes, failure mode identification, and system behavior. Pressure is measured in a variety of applications, ranging from medical research to product development. The more data available in these applications, the better a researcher can assess the situation and identify a resolution.
This white paper examines three types of interface load gauge technologies to accurately measure interface pressure and force distribution: load cells, pressure indicating film, and tactile pressure sensors. The strengths and limitations of each technology are analyzed, as well as their influence on a variety of real-world applications. These types of measurements can provide engineers and researchers with valuable data to enhance product quality, design, and efficiency.
Tactile pressure sensing utilizes ultra-thin sensors to measure contact force and pressure distribution between any two surfaces. This technology has played a key role in research and development, test and measurement, and quality control applications worldwide. Numerous well-known companies currently use our technology including: General Motors, Proctor & Gamble, 3M, Dell, Hewlett Packard, General Electric, Ford, Samsung, DuPont, Boeing, Corning, Reebok, Motorola, NASA, Michelin, Toyota and many more.
About Tekscan: Tekscan is the leading manufacturer of ultra-thin sensors and tactile pressure and force measurement systems. Our sensors and systems have been used in a various applications in the industrial, medical and dental fields. Products range from simple force sensors to complete pressure measurement systems capable of sensing over 100,000 points. For more information on tactile pressure sensing technology, download this free white paper, call us at 1-800-248-3669, or email us at marketing(at)tekscan(dot)com.