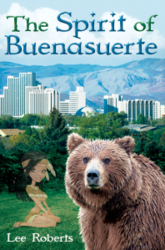 Candi's magical powers are strong but can be unpredictable, leading to a series of unexpected adventures.
Raeford, NC (PRWEB) January 10, 2013
Candelaria Enredame came to the United States in hopes of living the American dream, put herself through school and is on the verge of success. The heroine of this new novel mixes up a magical brew – leaving out blood, because she can't stand animal sacrifice – in hopes of creating some good luck for herself because she tends to attract trouble. Candi's magical powers are strong but can be unpredictable, leading to a series of unexpected adventures.
"The Spirit of Buenasuerte," set in North Carolina, follows Candi's story as she begins a dream job as the accountant for a new luxury resort and casino. There's a problem, however, because the casino is going up on old tribal land and appears to be haunted by a massacred Indian maiden. A legend about Spanish treasure in nearby hills tainted by a deadly confrontation with Indians centuries earlier adds to the negative energy around the casino. Someone has stumbled on the treasure more recently with deadly results.
Accidents by those who want to bring in union workers, a double murder and a scheme to skim money showcase the casino's dangers. Candi enlists the help of a paranormal team and an Indian with spiritual talents of his own. The situation begins to escalate, as more interested parties descend on the casino to settle scores and take care of business. Candi realizes the spirits have led her to the casino so she can restore balance, so she must find the courage to act.
Author Lee Roberts is a licensed CPA with an MBA from the University of Tennessee and more than 20 years of experience in global business and finance. He finds inspiration in his business experience and the people he meets. He lives in North Carolina with his wife, who comes from Cartagena, Colombia.
For additional information, please visit http://www.leerobertsbooks.com.
The Spirit of Buenasuerte
Lee Roberts
Dog Ear Publishing
ISBN: 978-1-4575-1499-9
228 pages
$9.95 US
Available at Ingram, Amazon.com, Barnes & Noble and fine bookstores everywhere.
About Dog Ear Publishing, LLC
Dog Ear Publishing offers completely customized self-publishing services for independent authors. We provide cost-effective, fast, and highly profitable services to publish and distribute independently published books. Our book publishing and distribution services reach worldwide. Dog Ear authors retain all rights and complete creative control throughout the entire self-publishing process. Self-publishing services are available globally at http://www.dogearpublishing.net and from our offices in Indianapolis.
Dog Ear Publishing – self-publishing that actually makes sense.