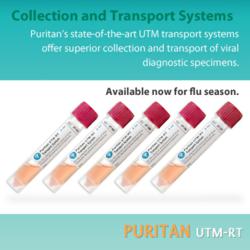 "Despite elevated demand due to an intense flu season, Puritan's U.S. manufacturing plant is stocked with UTM-RT products and can ship within 24 hours." - Puritan EVP of Sales, Timothy Templet
Portland, ME (PRWEB) January 10, 2013
Despite an industry-wide shortage of UTM-RT (universal transport medium) products due to a flu season that has already brought peak reporting levels in the United States, Puritan Medical Products Co., LLC announced today that its UTM-RT product line is now readily available in stock and that orders can be shipped in 24 hours or less.
"The elevated activity associated with this flu season seems to have had a serious impact on the industry's ability to meet demand for UTM-RT products," said Puritan EVP of Sales Timothy Templet. "Puritan manufactures products right here in the USA and we are able to accommodate the increased demand for UTM-RT products for testing of the influenza virus at competitive pricing."
With administrative offices in Portland, ME and manufacturing plant in Guilford, ME, Puritan is an American manufacturer of single-use medical products for the global market in the healthcare, forensic, critical environment, food safety, and drug manufacturing industries. UTM-RT (Universal Transport Medium) products allow the medical industry to collect clinical specimens for transport to test for the flu virus.
Puritan manufactures 11 types of UTM-RT products for the collection and preservation of clinical samples containing viruses, chlamydia, mycoplasma, and ureaplasma. Templet noted Puritan had ample UTM-RT stock as of Jan. 10.
The Centers for Disease Control and Prevention recorded elevated levels of influenza diagnoses in nine of the 10 regions it monitors in the U.S. in the most recent reporting for the last week of December.
On Wednesday, Boston officials declared a health emergency in that city after 18 people died from the flu and 700 reported flu-like symptoms, a 900% increase from the 70 total cases last year.
Twenty-nine states have reported high levels of influenza-like-illness and another nine states are reporting moderate levels with 41 states reporting wide-spread geographic influenza activity, according to the CDC.
"Reports of influenza-like-illness (ILI) are nearing what have been peak levels during moderately severe seasons," said the CDC's Chief of the Epidemiology and Prevention Branch Dr. Joe Bresee in a CDC Jan. 4 press release. Officials have suggested this flu season could be the worst in the past 10 years.
A common method of testing for influenza requires nasopharyngeal swab sampling. The CDC has recommended using synthetic tip swabs for this practice. Puritan's line of PurFlock®, Ultra®, and HydraFlock® swabs are commonly used in this type of diagnostic collection and are standard in many of Puritan's UTM-RT transport systems.
About Puritan
Puritan Medical Products Co., LLC is North America's largest manufacturer of single-use medical products and diagnostic products. All Puritan products are manufactured at their Guilford, Maine, U.S. facility, which includes custom media manufacturing and compounding capability to meet a multitude of customer needs. Puritan operates a state-of-the-art microbiology laboratory that conforms to stringent U.S. quality system regulations. This lab is where all Puritan's research and development as well as product testing, approval, and release take place.
Media Contact
Timothy Templet
Puritan Medical Products
+1.207.876.3311