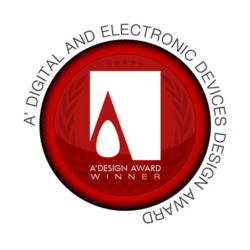 The most creative and advanced High-Tech product designs will be awarded with the Platinum A' Design Award.
Como, Italy (PRWEB) January 10, 2013
Today, A' Design Award & Competitions have announced their call for entries for the 2013 Edition of the Digital and Electronic Devices Design Awards. The award is now open to submissions of high-tech gadgets designs such as tablets, handhelds, computers and mobile phones until 28th of February 2013.
The theme of 2013 Digital Design Awards has been chosen as "miniaturization". Special recognition will be given to products that occupy less space, use less energy and require the least amount materials for production. The best product designs will be selected according to evaluation criteria that considers the form, functional and emotional aspects of the products. Furthermore, nominated designs will be considered for their degree of technological innovation, aesthetic qualities, functionality and usefulness in addition to ease of their realization efficiency, ergonomics and human interaction. Finally, nominated product design submissions will also be evaluated for their packaging and the bundled product/user manuals.
Submission Process and Timeline
Submissions could be made online via http://www.adesignaward.com . Designers are expected to upload up to five high-resolution images of their product designs, together with a presentation of their packaging and user guides. The last day to join the Digital and Electronic Devices Design Competition is given as 28th of February 2013. Winners will be announced on 15th of April 2013. Further information regarding the nomination process could be obtained from: http://www.digitaldesigncompetition.com
About A' Design Awards
A' Design Award and Competitions aims to highlight, advertise and advocate good design, designers and design oriented companies. The award aims to channel the attention of press, interactive media, design critics, distributers and buyers to the award winners who demonstrate exceptional levels of creativity and technical innovation in their product designs. More information regarding the A' Design Awards could be obtained from http://www.whatisadesignaward.com