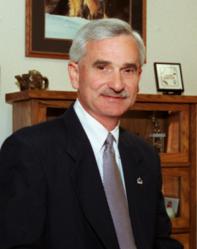 "After nearly 18 years leading this great institution, it is with mixed emotions that I announce my retirement effective August 1, 2013," Brouder announced. "It has been my honor and privilege to serve as Columbia College president."
COLUMBIA, Mo. (PRWEB) January 10, 2013
Dr. Gerald T. Brouder, president of Columbia College, announced his retirement as the 16th president of Columbia College. After nearly 18 years at the helm of the college, President Brouder has seen the college through tremendous growth and change, all while maintaining an expectation of civility and respect.
"After nearly 18 years leading this great institution, it is with mixed emotions that I announce my retirement effective August 1, 2013," Brouder announced. "It has been my honor and privilege to serve as Columbia College president."
In his inaugural address, held Sept. 15, 1995, Brouder delineated his goals for the college, which included a deepening of the sciences, growth in the endowment to better meet the needs of students and the fortitude to continue to move forward with a sense of civility and respect as the college becomes a model institution. In addition, it was Brouder's goal for the college that it become more technologically advanced, and that all curricula be enhanced, particularly in the areas of science and mathematics.
Daisy Grossnickle, chair of the Columbia College Board of Trustees, will soon put together a search committee to find the 17th president of Columbia College.
"Dr. Brouder's goals and expectations have been met and exceeded," said Grossnickle. "I have been fortunate to serve on the Board and watch as Dr. Brouder led this great institution with care and diligence. Though we are all sad to let him go, we know Columbia College will continue to excel based on the direction and leadership of Dr. Brouder."
Prior to coming to Columbia College, Brouder spent 17 years at the University of Missouri in both faculty and administrative position, where he served as provost and interim chancellor. Brouder has a Ph.D. in nursing from the University of Texas-Austin.
Founded in 1851 in Columbia, Mo., Columbia College has been helping students advance their lives through higher education for more than 160 years. As a private, nonprofit, liberal arts and sciences institution, the college takes pride in its small classes, experienced faculty and quality educational programs. With more than 30 campuses across the country, 18 of which are on military installations, students may enroll in day, evening or online classes. The college is accredited by the Higher Learning Commission and is a member of the North Central Association of Colleges and Schools. Columbia College educates more than 30,000 students each year and has more than 74,000 alumni worldwide. For more information, visit http://www.ccis.edu.