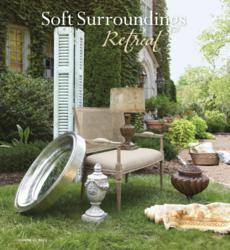 For years our customers have asked us for the furniture, rugs, artwork – even the dogs, from our catalog photography
St. Louis, MO (PRWEB) January 10, 2013
Soft Surroundings, a leading multi-channel women's retailer of stylish yet casual clothing, luxurious bedding and state of the art beauty solutions, is excited to announce the expansion of its online furniture and home décor offerings into a unique collection with an elegant new catalog.
"For years our customers have asked us for the furniture, rugs, artwork – even the dogs, from our catalog photography. We've always done our best to find the sources and pass them on. We finally realized that by not having these things readily available to our customers, we weren't providing the experience we want them to have," says Robin Sheldon, President and Founder of Soft Surroundings.
At the request of its customers, the Retreat Collection was conceived. Robin and her team travel the world gaining design inspiration for their products. For this new collection they immersed themselves in the countryside of Provence. Bringing back antiques and artifacts, they used many of these pieces as design templates for the beautiful French reproduction furniture and vintage inspired décor that Soft Surroundings now offers. All of the pieces are made with quality craftsmanship, but are also very reasonably priced. Additionally, many of the original antiques are now available for sale on softsurroundings.com.
With this expanded line comes a new catalog, titled "Retreat," which will be almost exclusively home furnishings and décor. The Retreat catalog will be sent to a million current customers of Soft Surroundings. The full collection is also available online. A virtual version of the catalog can be viewed at softsurroundings.com/Online_Catalog/. An iPad app can be downloaded free through ITunes. Additionally, the Retreat Collection will soon be available at their ten retail store locations in St. Louis-MO, Boston-MA, Chestnut Hill-MA, South Windsor-CT, South Barrington-IL, Kansas City-MO, Denver-CO, Dallas/Ft. Worth-TX, The Woodlands-TX and San Antonio-TX.
About Soft Surroundings: Headquartered in St. Louis, MO, Soft Surroundings is an upscale tri-channel retailer of women's apparel, home, and beauty items. Releasing its first catalog in 1999, Soft Surroundings has been dedicated to making women look and feel their best ever since. Having experienced record growth in its catalog channel, Soft Surroundings opened its first retail location in St. Louis, MO in November of 2005, followed by nine additional locations. Soft Surroundings is continuing to expand its retail division nationally to meet the needs of its many devoted customers.