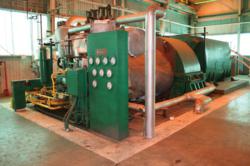 Staycyville, Maine (PRWEB) January 10, 2013
Sherman Development LLC, is working in conjunction with Niagara Worldwide to present the former Boralex Biomass Power Plant to a number of National and International energy developers for the purchase, transfer and reinstallation of the entire system. Due to its condition, up to date capability and state of the art Biomass Turbine Boiler technology the 24MW Plant is drawing attention because of its fast track re-use potential. While several groups are renewable bio-mass developers throughout the United States, there are a number of industrial manufacturers interested in the complete system as means to support and expand specialized plant capability.
Recently Boralex Inc. of Montreal, Quebec, sold four of its United States-based biomass electric plants (located in Maine) which convert scrap wood to power. The deal did not include Boralex's plant in Stacyville, which was sold to Sherman Development and maintained in great condition for resale. The entire facility is set for a fast track re-use anywhere that a complete Biomass facility would be needed.
The 24 MW Plant has garnered attention due to the difficult process and long lead time for setting up a "brand new" biomass plant of this size and configuration. "Sherman Development is in talks with prospects on three continents. We welcome any interested parties, project ideas or partnerships that could utilize the Sherman Plant," said Eric J Spirtas, President of Niagara Worldwide. Niagara is the company selected to manage the site assets and redevelopment of the facility. "The rising availability of incentives and renewable credits found both in the U.S. and the world increases the financial viability to use a plant like this one for a number of industries and possible power applications."
Niagara Worldwide LLC acquires, manages, markets and sells for final disposition idle industrial property and assets around the world on its own account and for the benefit of other international companies. Properties procured by Niagara Worldwide vary in size, scope and type, requiring very specific redevelopment efforts designed by our growth management team to suit the specific location and respective needs of the community and its specialized clients.