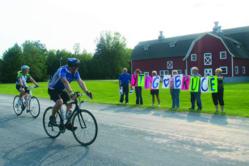 Mishawaka, IN (PRWEB) January 18, 2013
For many of the 974 cyclists who took part in the 4th Annual Bike Michiana for Hospice, it was a great day to get out on a bike and ride for a good cause. For others, it was a way to give back to an organization that had been there for a loved one at a time when care and support was most needed.
In 2011, Bruce Foster rode in his first Bike Michiana for Hospice, held in South Bend, IN. "I'd never really ridden before but I thought I could do the 40-mile ride," he said. That year, he rode in memory of his wife Sandy, a Center for Hospice Care patient who passed away on December 17th, 2010. "I wanted to take care of her myself," he said, "but towards the end, I needed help and they were there with the equipment, the supplies, everything. They told us what to expect through the process and made everything more comfortable for me and my daughters."
His mother helped his 2011 fundraising efforts by getting pledges and money. "She got about $1,500," he said. In April that year, she became a CHC patient after a heart attack and a diagnosis of congestive heart failure. "The caregivers were awesome. They had such a good relationship with her." After she passed away at Thanksgiving 2011, Bruce decided to take his commitment to Bike Michiana for Hospice to the next level. He bought a new bike and began training over the winter in anticipation of riding the 100-mile route. "I didn't know if I could do it, but decided to give it a shot."
He also decided to give raising $5,000 for the ride a shot as well. "I figured if my mom could raise $1,500 for my ride then I should give it a shot." His shot hit the mark and then some. With the help of family and friends around the country, Bruce raised $6,330.
Eric and Mark Streeter rode the longest route of the event – 125 miles – in memory of their father, Will Streeter, an avid cyclist who was a CHC patient. Will Streeter passed away in April of 2012 from ocular melanoma. Up until two weeks before his death he was working on the design of the cycling jersey his sons (and other supporters) would be wearing.
Will's philosophy was to have a plan for getting from Point A to Point B but the biggest part of the ride was the trip in between. He passed that along to Eric and Mark. "It's definitely about the experience," Mark said. "Being first isn't the important thing, it's about doing something."
Registration for the 2013 event is now open. Early registration is just $35 - children under 12 ride free. Six routes, from 3.5 miles to 125 miles, venture through the scenic beauty of South Bend - home to the University of Notre Dame - and the surrounding Michiana area. The various routes take riders by forests, gently rolling hills, lakes, vineyards and wineries. Visit http://www.bikemichianaforhospice.org to learn more or register.