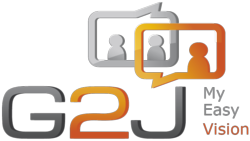 G2J, a Polycom Premier Technology Partner, makes Videoconferencing Management easy thanks to MyEasyVision™ available on iPad, iPhone and Web-Browsers without any Software to be downloaded or Hardware to be implemented.
Miami, FL - USA & Paris, France (PRWEB) January 15, 2013
MyEasyVision™ is a Software-as-a-Service Videoconferencing & Telepresence Management Solution for Telco Carriers, Video/Telepresence Managed Services Providers, Audiovisual Integrators, Network & Hosting Providers.
G2J Videoconferencing Management Solutions, delivered via cloud-based MyEasyVision™ platform are securely accessible via any network (private/public) and fully technology-agnostic.
With its carrier-grade, multi-tenant MyEasyVision™ platform built in-house, G2J provides monitoring & management services that increase the utilization of videoconferencing deployment by ensuring all systems are on, all the time, and calls start on time with the highest possible quality.
These new Mobile applications for iPad & iPhone are Free Tools that anyone can use. As G2J only sell through Channel Partners worldwide, these Tools can be fully branded to our Channel Partners logos & colors. For the past 6 months, most of G2J Partners have seen a significant usage increase when they deployed the Beta version of the plug-in and applications as it does really make Videoconference meetings' Scheduling & Managing much easier than before and accessible from any laptops, smartphones or tablets. Your customers will love this Application !
MyEasyVision™ is also available on any Web-Browsers with NO SOFTWARE to be downloaded & NO HARDWARE TO BE SET UP !
On Public or Private Cloud, MyEasyVision™ us fully secured and used by many large organizations worldwide.
Come & Visit us during the Team Polycom 2013 Show to discover MyEasyVision™ !
For more information, please contact:
Geoffrey Vande Weerdt
Head of The Americas & Global Wholesale Alliances
G2J US, Inc.
Tel: +1 (888) 832 7982
Email: america (at) g2j.com