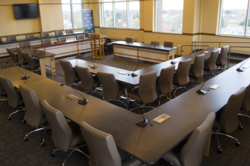 "Much like the education that will take place within its walls, the very possibility of this building has been collaborative from its conception," said President Dr. Thomas J. Gamble.
Erie,PA (PRWEB) January 11, 2013
Gary Cacchione and Dovetail Gallery gave their time, money and skill to create a unique conference room table for a $10.5 million flagship educational facility at Mercyhurst University in Erie, Pa. Situated in the new high-tech Center for Academic Engagement (CAE), the conference room overlooks a vista encompassing the city and Lake Erie and accommodates approximately 200. Mercyhurst President Thomas J. Gamble, Ph.D., requested Gary Cacchione to design, make and install a 120-linear-foot conference table system with modern utility holes for laptops and other expansive technology. These conference tables are constructed from walnut, maple, Corian® and acrylics. Gary used the landscape outside the windows as the inspiration for the conference tables' abstract design. Dovetail also installed cabinets, countertops and a sink wrapped in light woods with metal laminates. The conference room is currently open and available for use by local and regional businesses and organizations.
About Dovetail Gallery
Dovetail Gallery, Inc. is a provider of high quality architectural millwork, producing interior wood furniture and fixtures for a variety of commercial clients. Over the years, Dovetail Gallery, Inc. has also worked on several custom projects in the Erie area and is now recognized on a national level, with a heavy emphasis on the Washington, D.C., metropolitan area. Current clientele include restaurants, hotels, offices, hospitals, and various other types of commercial buildings. Dovetail has developed a national reputation for performing its millwork in an exceptional manner, at cost and on time. You can also see Dovetail Gallery's custom conference tables locally at the Manufacturer & Business Association and UPMC Hamot. When it comes to getting furniture for a workplace, school, organization or business, whether new or established, Dovetail Gallery is your premier millwork and custom furniture company.
To learn more, please contact
Brad Ford
352 East 18th Street, Erie PA 16503
Office: (814) 459-8071
Fax: (814) 453-3342
bradf(at)dovetailgalleryinc(dot)com