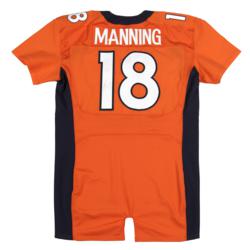 Irving, Texas (PRWEB) January 10, 2013
Panini America (http://www.paniniamerica.net), the global leader in licensed sports and entertainment collectibles, announced today that it has reached a multiyear agreement with the AFC West-champion Denver Broncos to be the franchise's exclusive provider of game-worn memorabilia through Panini Authentic (http://www.paniniauthentic.com), the company's memorabilia division that also maintains exclusive relationships with Kobe Bryant, Kevin Durant, Blake Griffin, Andrew Luck and the Dallas Mavericks.
The partnership will afford Denver Broncos fans the rare opportunity to own historic jerseys worn by the team's biggest superstars during their march to the AFC West title. The Broncos season continues Saturday with an AFC Divisional Playoff matchup against the Baltimore Ravens. Fans can explore the complete inventory of game-worn jerseys now at the Panini Authentic Website.
"We are pleased to partner with one of the elite franchises in the NFL for a relationship that allows us to procure rare and valuable game-worn memorabilia directly from the Denver Broncos, and offer ironclad authenticity and peace of mind to fans and collectors," said Mark Warsop, CEO of Panini America.
"Our utmost priority throughout this process was identifying a partner that cared as much about protecting the integrity and collectibility of our memorabilia and brand as we did," said Mac Freeman, Denver Broncos Senior Vice President of Business Development. "Clearly, Panini America and its Panini Authentic division is that partner. They are a recognized leader in the world of sports cards, collectibles and memorabilia, and their commitment to authenticity will benefit Broncos fans."
As part of the partnership, Panini America also is serving as a supporting sponsor of Broncos Bunch, the official kids club of the Denver Broncos, and will provide in-stadium sampling of trading cards at least once per season throughout the length of the agreement.
Panini America is the only company in the world that manufactures licensed trading cards and stickers for the NBA, NFL, NFL PLAYERS, NHL, NHLPA, MLBPA and FIFA World Cup. The company also has exclusive relationships with USA Baseball, USA Basketball and the U.S. Soccer Women's National Team. In addition Panini also has relationships with the Naismith Memorial Basketball Hall of Fame, The Pro Football Hall of Fame and the National Baseball Hall of Fame and owns exclusive entertainment licenses with One Direction, Justin Bieber, Disney and Hello Kitty and more than 600 global licenses with other sports and entertainment properties.
ABOUT PANINI:
The Panini Group, established almost 50 years ago in Modena, Italy, has subsidiaries throughout Europe, Latin America and the United States. Panini is the world leader in officially licensed collectibles and is the most significant publisher of collectibles in the U.S., with official licenses for MLBPA, NBA, NFL, NHL, FIFA, USA Baseball, Disney, Nickelodeon, Warner Bros. and other key properties from many other licensors. Panini has distribution channels in more than 100 countries and employs a staff of over 800. For more information visit us at http://www.paniniamerica.net, http://www.paninigroup.com or http://www.paniniamerica.wordpress.com. You can also follow Panini America on social media platforms Facebook, Twitter and on YouTube.