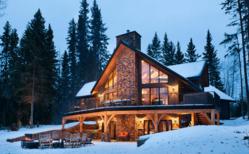 Meridian, ID (PRWEB) January 14, 2013
In celebration of a new year and the new, exciting projects to come, Riverbend Timber Framing has released stunning, new images to its photo gallery. These vibrant pictures feature a recently completed custom home built in Canada.
In this new photo gallery, named the Waterfront Haven, images capture the beauty of traditional timber framing within the home as well as the captivating landscapes surrounding it. A wide variety of photos allows potential clients to browse through the great room, kitchen, and other indoor spaces, as well as shots of the home's exterior and lakefront property.
This unique timber frame home was designed by Riverbend's in-house firm, M.T.N Architects, to accommodate the Alberta couple's outdoor lifestyle, remote location, and pristine lakeside views.
View this new photo gallery as well as other Riverbend timber home galleries at: http://www.riverbendtf.com/gallery.html
PFB Custom Homes Group, a wholly owned subsidiary of PFB Corporation, is the parent company of Riverbend Timber Framing, PrecisionCraft Log & Timber Homes, and Point Zero Homes.
Riverbend is a manufacturer of custom traditional timber frame homes. Using traditional timber frame designs and an integrated energy efficient building system, Riverbend's homes are built to last. With 30 years of experience, Riverbend creates inspiring homes that match each client's unique lifestyle, architectural preference, and budget.
# # #