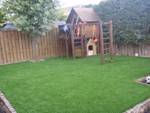 Blackburn, UK (PRWEB) January 16, 2013
For a limited period of time in 2013 ArtificalGrass4u is offering customers samples of its entire product range. Samples can be delivered to all addresses in the mainland UK and Northern Ireland and are despatched from the warehouse in less than 24 hours.
Installing artificial grass has a number of benefits and it offers a genuine alternative to the time and expense of maintaining a natural grass lawn. Artificial grass is easy to maintain and care for, needs no watering and mowing and will last for at least 20 years once installed. It is the best way to enjoy a green and lush garden without countless hours needed to keep a lawn in good shape.
Among the samples available to order from the website are:

Tuscany. Tuscany is a strong and robust grass product that will retain its good looks for many years. This grass has a dense, close structure and a short grass fibre, which means it always looks good in all weather conditions. Ideal for games and entertainment.
Napoli. Napoli is a top product from the collection; this grass is all but indistinguishable from the real thing. Napoli is composed in the same way as real grass: fresh, long, fine grass yarns combined with a curled layer beneath. This grass looks and feels like the real thing.
Perugia. Deluxe grass with a natural look. Perugia is one of the most beautiful grass products from the collection.
Anyone who wishes to order a sample of Tuscany, Napoli, Perugia or any of the other artificial grasses available from ArtificialGrass4u can do so through the website. Simply leave name, email address and a valid telephone number for confirmation of delivery details and samples will be despatched within 24 hours.
About Artificial Grass 4U
Artificial Grass 4U is one of the leading suppliers of a wide range of artificial grass products in the UK. Specialising in the supply and installation of fake grass for schools, nurseries and gardens more information on their full product range is available on their website which can be found at http://www.artificialgrass4u.co.uk.