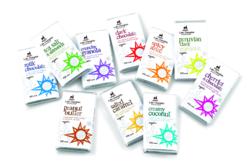 Burlington, VT (PRWEB) January 12, 2013
From January 20 to 22, Lake Champlain Chocolates (LCC) will tempt media and buyers at the 38th Annual NASFT Winter Fancy Food Show with an exceptional new line of organic chocolate bars.
"This new line was really inspired by the tastes and textures our own team members and customers enjoy the most," says Director of Marketing at LCC, Catherine Wisloski. "We conducted some recent analysis which revealed that consumers of gourmet chocolate want to enhance their health, explore new tastes, and indulge their senses. As chocolate lovers and outdoor enthusiasts, this rang true with our team's passions as well."
Jim Lampman, Founder and President, is an avid skier and snowboarder who fuels his active days and satisfies his cravings with the Crunchy Granola bar, milk chocolate packed with toasted oat clusters, raisins and cinnamon.
Eric Lampman, Research and Development Manager, who travels internationally to source new cocoa, is excited about the single origin Peruvian Dark Chocolate bar, which beckons to those curious about emerging terroir.
Allyson Myers, Director of Sales, tucks the new salty-sweet Peanut Butter bar in her bag whether she's spending the day on the pure blue waters of Lake Champlain or enjoying a summer picnic with her family.
Catherine Wisloski, Director of Marketing, rewards herself after an active afternoon with truly indulgent combinations like the Salted Caramel bar, dark chocolate filled with salty-sweet caramel. And when it's still chilly in Vermont and she dreams of an instant vacation, she breaks into a Creamy Coconut bar for a momentary escape to the tropics.
"This line of bars showcases exceptionally balanced organic chocolate and on-trend flavors like salted caramel or peanut butter," says Wisloski. "With both nostalgic classics and inspired new flavors, LCC's line of organic chocolate bars and squares should entice and delight chocolate enthusiasts."
Packaged in vibrant designs that suggest the intensity of flavor and purity of ingredients, this new organic line launches nationally in the spring of 2013. With ten chocolate bars and five bite-sized squares, the portfolio includes a flavor for nearly every taste and occasion: Peruvian Dark, Cherries & Chocolate, Dark Chocolate, Milk Chocolate, Sea Salt & Almonds, Spicy Aztec, Crunchy Granola, Salted Caramel, Peanut Butter, and Creamy Coconut.
"Taking a cue from nature, our fresh approach to packaging should resonate with consumers who treasure the simple pleasure of discovering exceptional tastes," added Wisloski.
For a first look and taste of the new organic line, please visit Lake Champlain Chocolates at Booth 565 in the North Hall of San Francisco's Moscone Center. All Lake Champlain Chocolates' products are preservative-free and kosher-certified. For further information, please visit http://www.lakechamplainchocolates.com.
About Lake Champlain Chocolates
A pioneer in the American chocolate movement, Lake Champlain Chocolates is a family-owned company located in Burlington, Vermont. In 1983, Jim Lampman declared he would create upscale American chocolates that would "rival the Belgians." Almost 30 years later, the Lampman family has done just that, by introducing European flavors and tastes using local, Vermont ingredients and by taking a craftsman's approach to chocolate: creativity, patience and mastery. This level of care and craft leads to chocolates that win high praise, year after year, from customers and industry experts alike. Lake Champlain Chocolates are hand made by people who are passionate about their work; products include chocolate bars, as well as the best-selling Five Star Bars, truffles, caramels, gift assortments and gourmet hot chocolate and are available online, nationwide at specialty food and gift stores, such as Whole Foods Market, upscale hotels and inns, and at their three company-owned stores in Vermont.