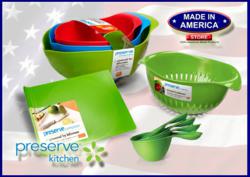 We believe that choosing eco-friendly products doesn't mean having to sacrifice quality, price, or performance
Elma, New York (PRWEB) January 11, 2013
Preserve, a company that brings eco-friendly and made in the U.S.A. mission, has teamed up with the Made In America Store to create 100% U.S. made cookware and kitchenware.
The Made In America Store is the only brick & mortar store that sells over 3,500 products that are 100% U.S. manufactured.
The world as a whole is taking the steps needed to eliminate leaving a carbon footprint. Preserve kitchenware and cookware takes being "green" to the next level by making it their business model, simultaneously making them American made.
Preserve makes high quality, eco-friendly cookware and kitchenware. Preserve strives to combine socially and environmentally responsible business practices with groundbreaking design to manufacture products that people feel good about having in their homes.
"We believe that choosing eco-friendly products doesn't mean having to sacrifice quality, price, or performance," said a Preserve Representative.
Each product offered by Preserve is manufactured from 100% recycled plastics and 100% post-consumer paper. Preserve saves energy and natural resources by only using recycled materials and at the same time they create an incentive for communities to recycle.
Find 100% American made kitchenware & cookware from Preserve at the Made In America Store.
Coincidentally, as part of Preserve's mission to save on energy, everything is made in the United States to use less fuel and limiting the environmental footprint. The shorter distances equal fewer emissions into the sky but also keeps their products 100% U.S. made, which is what the Made In America Store strives to be.
The Made In America Store currently carries Colanders, Cutting Boards, Measuring Cups, Mixing Bowls, Food Containers and some of Preserve's "On The Go" product line featuring Plates and Silverware.
In 1996, founder and President Eric Hudson were committed to the need to use our earth's resources more efficiently and responsibly. The developing plastic recycling market represented a great new opportunity to reuse the earth's resources. Plastics are typically made from oil and natural gas, making up roughly 9% of the world's petroleum usage.
However, at the time that Preserve was formed, there was a lot of concern that recyclables were not necessarily turning into new products. Seeing an opportunity, Eric started Preserve to reuse Earth's precious resources and turn them back into products that people wanted. He worked with dentists, scientists and engineers to create Preserve's first high-quality product from recycled plastics—the Preserve Toothbrush.
Since then, Preserve has grown into a dynamic, green lifestyle company offering a range of everyday products for almost every aspect in consumer's homes. Using innovative methods, Preserve turns used materials into razors, colanders, cutting boards and tableware.
"As we grow, our principles stay the same," said a Preserve's Representative.
Keep up to date with the Made In America Store with Social Media. Visit the Made In America Store's Facebook page for news articles, discussions and promotions!
The Made In America Store is the only brick and mortar store that sells 100% made in the United States products from over 350 vendors. Consumers can visit http://www.MadeInAmericaStore.com or call 716-652-4872 to get more information or shop our catalog of over 3,500 items. Both Active Duty Military Personnel and U.S. Military Veterans receive a 10% discount every day. Followers of the "Made In America" movement can keep updated with the Made In America Store through Facebook, Twitter, Google+, Pinterest, FourSquare and even their own blog on Wordpress!