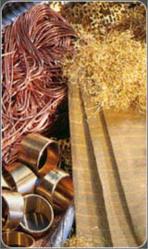 Exchange your metals for money at Lancaster Recycling today!
Lancaster, N.Y. (PRWEB) January 12, 2013
Lancaster Recycling, a scrap metal recycling facility servicing Western New York, is launching a customer loyalty program. Lancaster Recycling strives to provide customers with exceptional service in a clean and safe facility. The loyalty program is part of the facility's ongoing efforts to make recycling easier and more valuable.
Customers can enroll in the loyalty program by receiving a card from Lancaster Recycling. Each time the customer brings in recyclable materials, the card is stamped. For 10 stamps, on 10 separate occasions, the customer will receive 10 dollars towards their total payout. The program is to encourage customers to keep coming back to Lancaster Recycling.
Recycling scrap metals and other materials can benefit more than just the customer. By using recycling services like Lancaster Recycling, customers contribute to the prevention of greenhouse gas emissions and other air and water pollutants. Recycling also leads to the production of industrial materials and can create jobs.
Lancaster Recycling offers aluminum recycling, metals recycling, and steel recycling, as well as many other commonly recycled items. Their facility is open to the public and is located at 2 Benzel Ct. in Lancaster at the corner of Walden & Cemetery. You can also give them a call at 716-685-8880, or visit online at LancasterRecycling.net.
About the company:
Founded in 2006, Lancaster Recycling is a full service scrap metal recycling facility. They purchase all scrap metals from small and medium businesses including copper, aluminum, brass, steel, etc. They also purchase scrap metals from residents and have a fully secure and safe site. Their motto is cleaner, safer, better and they strive to provide the cleanest facility, safe enough to bring children to, and the best service in the area.
Their professional, friendly and courteous staff will welcome customers and will offload vehicles, weigh materials while they watch (completely transparent) and provide them with a receipt. They can also provide a Lancaster Recycling branded ATM card for use in our own ATM machine for fast, easy and secure cash on demand.