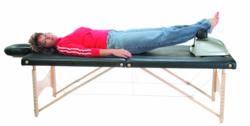 For individuals who cannot participate in normal exercise, the devices can be literal lifesavers.
Salina, Kansas (PRWEB) January 15, 2013
With the numerous changes to the United States healthcare system, long term care facilities are now looking for more efficient wellness care to offer their residents. In fact the U.S. Medicare site states by the year 2020 nearly 12 million people will need long-term care. Clark Wellness has responded to this change by offering a continuous passive motion package for ease of implementation.
Continuous passive exercise products can help residents of these facilities with the aid to maintain or restore range of motion. Individuals who have trouble achieving a normal range of motion can benefit from continuous passive exercise products. These devices are intended to provide frequent and consistent mobilization under controlled conditions in a senior living or rehabilitation facility. Incorporating continuous passive exercise equipment in long term care wellness and exercise programs help meet the ongoing challenges to provide better quality and more efficient care.
The Exerciser Elite® is a passive exercise machine providing some of the benefits of aerobic exercise through continuous passive motion. Operating the Exerciser Elite® is simple. Just lie down, relax and let the gentle swinging motion cycle up through the body. No stress or impact on the joints. The 2" lateral movement can help promote flexibility in the ankles, knees, hips and spine, relaxation of the muscles in the back, and increase circulation in the lower extremities. The increased circulation helps relieve swelling in the ankles and legs, which can build up if one is immobile for long periods. This type of movement also helps move the lymph fluid, which, in turn, helps the body reduce excess fluid buildup and toxins. In this way, the user is able to receive many of the same health benefits of normal aerobic exercise without putting any undue stress or impact on the legs, back, or joints.
For enhanced safety, the highest quality passive exercise machines come with adjustable speeds, so one's body can be gently introduced to the activity. Once the individual is comfortable with the activity, the speed can be increased for even more benefit. In fact, healthy people who are able to engage in traditional exercise have used these devices as a way to supplement and enhance their aerobic activity. However, for individuals who cannot participate in normal exercise, the devices can be literal lifesavers, enabling even those on bed rest to gain the benefits of regular physical activity.
About Clark Wellness
Clark Wellness Company, a family owned and operated business since 1959, is located in Salina, Kansas. In 1959, Clifford Clark, a self-educated businessman, started an electronics sales and service company in Salina, Kansas. This operation grew into distribution of electronics and communication equipment throughout the United States.
After suffering a back injury in the mid 1980's Mr. Clark became more health conscious and started seeking out home therapy products. His discovery of the Kneading Fingers neck and back massager, in 1990, soon became Clark's flagship product. In the years following, Clark Enterprises went on to specialize in high-end relaxation and health improvement machines with the addition of the Kneading Roller, a foot reflexology machine and the Exerciser 2000, a passive exercise machine. This was the start of a multi-million dollar business focused on helping others feel better.
For over 20 years, their massage and passive exercise products have been used in homes to help individuals feel better and enjoy a better quality of life. To see more about Clark products visit http://www.cwmachines.com.