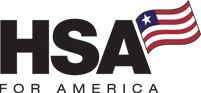 Now that people are required to purchase health insurance coverage, they're going to be looking for the least expensive options available.
Fort Collins, CO (PRWEB) January 14, 2013
High deductible HSA-qualified health insurance plans with an individual deductible up to $6,000 will be sufficient to avoid a penalty for failure to maintain adequate health insurance coverage under Obamacare rules starting in January 2014. People under age 30 will be allowed to purchase catastrophic plans which do not have to meet the same requirements and are expected to be a little less expensive. The public is invited to ask questions about meeting the coverage mandate Tuesday, January 15, at 5 PM Eastern during HSA for America's live telephone seminar.
With average premiums expected to jump from 30 to 50 percent, HSA for America is anticipating a big interest in HSA-qualified plans. "Now that people are required to purchase health insurance coverage, they're going to be looking for the least expensive options available", said Wiley Long, president of HSA for America. "When you count the tax benefits, there is no less expensive way to insure yourself than with a high-deductible HSA-qualified plan, and a health savings
Until state officials finalize what essential health benefits to require in coverage, it's uncertain what premiums will be on new policies. People who have existing coverage that has been in effect since March 23, 2010 may elect to keep it. Everyone else will be required to change to one of the new plans starting on January 1.
Subsidies will be available to help those earning under 400 percent of the poverty level to purchase coverage. Those who do not purchase coverage will face a tax penalty.
Policies qualified to be combined with a health savings account (HSA) are available with various individual deductibles that meet the minimum coverage requirement. That's called the bronze level of coverage. More extensive coverage dubbed silver, gold and platinum plans will also be available.
Many people are surprised to learn that plans allowing them to open an HSA and claim tax deductions for health-related costs actually have low out-of-pocket annual limits like $5,950 for an individual. In addition to tax deductions for expenses, an HSA lets people build savings with tax-free earnings. The savings can be used for Medicare premiums, long-term-care insurance, and other health expenses in retirement.
HSA for America hosts will be answering questions about these savings and other important health care reform considerations during the January 15 telephone seminar. You can get details on the seminar and sign up here.
About HSA for America:
As the nation's leading independent HSA expert, HSA for America has earned a reputation for providing superior educational resources for individuals, families and small businesses. With its comprehensive website, the public can evaluate high-deductible health insurance plans that allow them to establish an HSA and comply with the health care reform mandate.
Consumers may access HSA for America's instant quote engine and online applications or request individualized assistance. Confidential consultations regarding HSA plans and Health Reimbursement Arrangements may be arranged by calling 1-866-749-2039 from 9 AM through 11 PM Eastern.