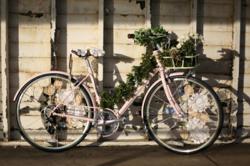 Philadelphia, Penn. (PRWEB) January 11, 2013
Women's fashion brand, Free People, announces the launch of their January 2013 catalog, 'Girls on Bikes' shot on location in Amsterdam, one of the world's most bike-friendly cities. Models as well as 'real girls' bike through the city streets in the brand's collection of casual, flirty, and effortlessly chic styles.
The catalog comes at a time when several cities are working to create bike-friendly streets and community bike sharing services, which inspired Free People to team up with iconic bicycle brand, Schwinn, a division of Dorel Industries (TSX: DII.B, DII.A). Together they will highlight some of their favorite bike-friendly cities including Portland, Chicago, New York, San Francisco, and of course, Amsterdam in a campaign titled Freewheelin'. Five lucky winners will receive a bike from Schwinn's urban line. Each winner will receive a $250 gift card to Free People, as well as a selection of locally made products from each city. Enter to win at http://www.freepeople.com/contests/.
As a company that provides free helmets and lights to all home office employees who bike to work, Free People encourages residents to go green and go healthy, an initiative they fully support.
"Bicycles have been a long standing feature of the Free People brand and culture, with hand-decorated bicycles featured prominently in our boutiques throughout the country," says Jed Paulson, Director of Marketing & eCommerce for Free People. "We are thrilled to partner with Schwinn, which has a rich history as an iconic brand, and we look forward to celebrating a few of our favorite bike-friendly cities."
Free People will also carry a limited edition assortment of artisan accessories to outfit any bike in style. Items include hand-tooled and painted bike seats, crochet skirt guards, embossed handlebar grips, hand-painted wooden bike stands, and even wine bottle holders. Items will be available exclusively on FreePeople.com in January.
About Free People
Free People is a specialty clothing brand featuring the latest trends and vintage collections for women who live free through fashion, art, music and travel. The bohemian look consists of quality apparel, shoes, and accessories that invoke attributes of femininity, spirit, and creativity with its design. Free People is distributed globally via direct channels such as the Free People US site and Free People UK site, as well as specialty boutiques, top department stores, and the brand's own free standing retail locations in the U.S. and Canada.
About Schwinn
Founded in 1895, Schwinn is an American icon, building some of the best-known and best-loved bicycles of all time. Schwinn is part of Dorel Industries (TSX: DII.B, DII.A), a world class bicycle and juvenile products company. Dorel creates style and excitement in equal measure to safety, quality and value. Dorel has annual sales of US$2.4 billion and employs 5,000 people in facilities located in twenty-four countries worldwide. With a continued dedication to quality, forever synonymous with the Schwinn name, America's most famous bicycle brand looks forward to providing another century of innovation and performance to people of all ages. Information about Schwinn bicycles is available at http://www.SchwinnBikes.com. Be sure to follow Schwinn on Twitter at @RideSchwinn and like Schwinn on Facebook at Ride Schwinn.
###