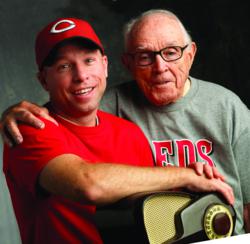 Caring for parents will often cost a man $89,107 in lost wages over their lifetime.
Perrysburg, OH (PRWEB) January 15, 2013
Did you know that nearly 45% of senior family caregivers are men? The traditional stereotype of a family member taking care of an elderly relative is a wife, daughter or daughter-in-law, but according to a recent Pew Research Center report, more and more husbands, sons, nephews, and friends in America are taking up the mantle of caregiver. Men now comprise nearly half of those in the role of caregiver based on that report.
In a recent interview for SeniorsforLiving.com, Bob Bua, the President of CareScout, a Genworth partner with AARP®, noted that male family caregivers are the highest frequency callers to their caregiver hotline (1-877-333-5885 Monday-Friday, 9am – 5pm). Though still underserved, there are more resources for caregivers today than ever and many of those are realizing the need for a more inclusive approach.
Sometimes a husband helps his wife who cannot remember to take medications, dress, or eat regularly due to the ravages of Alzheimer's. Or a son or, perhaps a few sons, coordinate help for Mom and Dad by bringing in meals, mowing lawns, chauffeuring to appointments, shopping for groceries, and even personal care.
"Most men have grown up in a household – and certainly a culture – in which females have been perceived as the primary family nurturers. Yet, often by necessity, more men than ever are rolling up their sleeves and helping an ill loved one with day-to-day tasks such as dressing, toileting, bathing, eating, changing dressings and managing medications," according to a recent report at AgingCare.com.
Often sons and sons-in-law will spend thousands of dollars to adapt their home or their parents' home to help with mobility, memory or convenience. In addition, according to a Wall Street Journal piece in October, caring for parents will cost men who are 50-plus an average $89,107 in 2011 dollars in lost wages over their lifetime.
Navigating the various systems like health care, community resources, and assistance agencies, working with the Veterans Administration or Job and Family Services can be formidable. This is especially true if you are not used to asking for help or advice. AgingCare.com notes that lack of information and "not asking" is a primary roadblock to getting needed services for men and those under their care.
Numerous agencies support caregivers no matter their sex. The Alzheimer's Association offers a multitude of support for families who are contending with more than a hundred types of dementia (419-537-1999 or http://www.alz.org).
The Area Office on Aging offers a full range of services including training, help finding resources for seniors and their caregivers (419-382-0624 ext 1169). When you call, ask for your free copy of CaregivingSMARTS: The Resource Guide for Families & Persons Caring for Older Adults or find the whole book online at http://www.areaofficeonaging.com.
The National Council on Aging has created a free service (benefitscheckup.org) designed to help adults 55 and older to discern government and private programs that may be able to help them pay for prescription drugs, health care, in-home services and other needs.
Many are unsure just where to start. A support group of individuals who are on the journey may be just the answer. Caregiver.com offers a support group locator and there are a number of groups – including one directed by a male Licensed Social Worker.
A brand new option in senior living in Northwest Ohio, St. Clare Commons, too, has partnered with Blessed John XXIII, St. Rose Parish, the Alzheimer's Association and others to bring some of these same resources to the community. In the coming months, St. Clare Commons will offer seminars on caregiver resources, health care options, planning ahead, "knowing when to say when" and many other senior concerns.
If you would like to learn more, click here.
"For God is not unjust so as to forget your work and the love which you have shown toward His name, in having ministered and in still ministering to the saints." - Hebrews 6:10
REVERENCE. SERVICE. STEWARDSHIP.
St. Clare Commons is a continuing care community member of Franciscan Living Communities and is sponsored by the Sisters of St. Francis of Sylvania, Ohio, and Sylvania Franciscan Health, in partnership with Blessed John XXIII Catholic Community and the Toledo Diocese. Franciscan Living Communities is a non-profit leading provider of senior living services to 1,200 residents in communities throughout Ohio and Kentucky offering continuing care, independent living, assisted living, rehabilitation, skilled nursing, memory care and adult services. In all relationships, we commit to Reverence for, Service to, and Stewardship of the whole person with whom we are blessed to work. To learn more about Franciscan Living Communities log on to our website at http://www.flcsylvania.org or St. Clare Commons.