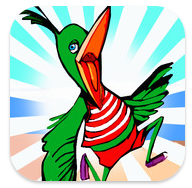 The possibilities are staggering, its an amazing time to be telling kid stories using the power of these e-devices...
Los Angeles, CA (PRWEB) January 11, 2013
The 'Lazy Bird' animated storybook adventure available for iPhone and iPad via the iTunes app store has released a sweeping update to increase the fun and interactivity. The new version includes various animations, interactivity, and additional sound effects sure to excite and delight children of all ages.
The changes were intended to make the story more engaging by taking advantage of some of the available features iTunes apps allow. Reader feedback from previous versions and reviews was taken into consideration and helped to determine the enhancements to include. The Lazy Bird storybook is available now for just $2.99 on iTunes: download here.
The popular iPad/iPhone application includes three different ways to immerse users in the adventure:

Read to me -- Narrated adventure with follow along text.
Read it myself -- Practice reading in traditional eBook style
Record your voice -- Kids can become the narrator, or parents can record their reading for their children to play back later
The Lazy Bird is in a groundbreaking genre some are calling the 3rd generation of interactive books, according to the NY Times reporting on this genre taking advantage of the e-readers and devices that allow for more user participation. These new digital storybooks allow readers to actively involve themselves in the storyline, or allows them to discover hidden elements.
"It is very exciting to be involved in digital storytelling at present, the possibilities are staggering, and we are pouring our passion into creating epic and engaging apps and adventures children will love," said children's book author Tatyana Mironova.
According to Digital Book World, authors these days are "designers, developers, technologists, and producers". They propose we begin calling these pioneering individuals children's content creators as they create digital experiences for children on the web, smartphones and tablets.
One thing is for certain, the 'Lazy Bird' app update is great news for kids who love a good adventure and are looking for fun and excitement.
About Lazy Bird:
Rated Top 5 iPad and iPhone Interactive Story Books for Children, 'Lazy Bird' offers a wholesome message, exciting adventure and interactivity sure to delight parents and kids alike. Available now via iTunes, click here to purchase: https://itunes.apple.com/us/app/lazy-bird/id524743398