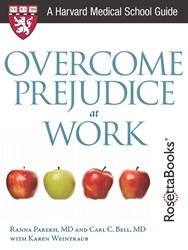 "eBook lines from major institutions are an effective way to reach millions of people worldwide," said Arthur Klebanoff, CEO of leading independent eBook publisher RosettaBooks. "We look forward to developing this line into a leader on health topics."
New York, NY (PRWEB) January 14, 2013
Most people have probably felt prejudice at some point regardless of skin color or gender. When the overweight person isn't picked for the team, when the short person is dumped because of his height, when the old person is passed over for someone younger. Feeling disrespected for a reason beyond control is a common human experience. But when it happens at work, the stakes are higher – because livelihoods are in the balance – and the hurt can be intense. Reading the new eBook "Overcome Prejudice at Work," can help readers respond
The Harvard Medical Guide includes 15 helpful tips for coping with and resolving such subtle acts of prejudice—often called "miscroaggressions." Co-authored by psychiatrists Ranna Parekh, M.D. and Carl C. Bell, M.D., with writer Karen Weintraub, it stresses the importance of planning a thoughtful response rather than reacting in anger. Although anger may be a natural reaction, our experts recommend channeling that anger into a constructive action plan, and then they show you how.
Harvard Health Publications arranges the publication annually of more than a dozen full-length traditional books. This title is part of its first entry into "digital originals."
"We have a robust social media presence and thought this was the time to serve our constituencies with these short, accessible, informative eBooks," said Dr. Julie Silver, Chief Editor of Books for Harvard Health Publications.
"eBook lines from major institutions are an effective way to reach millions of people worldwide," said Arthur Klebanoff, CEO of leading independent eBook publisher RosettaBooks. "We look forward to developing this line into a leader on health topics."
Ranna Parekh, M.D., practices at Massachusetts General Hospital and McLean Hospital, and is an instructor of Psychiatry at Harvard Medical School. She also directs the Center for Diversity in the department of psychiatry at MGH.
Carl C. Bell, M.D., is a professor of psychiatry and public health at the University of Illinois at Chicago, and president and CEO of Community Mental Health Council & Foundation, Inc., a Chicago-based, comprehensive community mental health clinic.
Karen Weintraub is a science journalist who has written for The Boston Globe, USA Today, and the BBC among others.
Harvard Medical School was founded in 1782 and encompasses 18 affiliated hospitals with more than 11,000 faculty physicians. Harvard Health Publications is the media and publishing division of the Harvard Medical School. The goal of its publications is to bring people around the world the most current health information that is authoritative, trustworthy, and accessible.
This title is part of a series of Harvard Medical School Guides that are short, practical original works, organized by Harvard Health Publications and drawing on the resources of Harvard Medical School.
About RosettaBooks: RosettaBooks is the leading independent eBook publisher. RosettaBooks publishes such timeless classics as Brave New World, Slaughterhouse-Five, the works of Arthur C. Clarke, The 7 Habits of Highly Effective People, and the complete works of Winston Churchill. RosettaBooks has published ten Kindle Singles, including Ray Bradbury's The Playground, nine of which are Best Sellers. RosettaBooks can be found on Facebook. For more information, please visit RosettaBooks.com.
Contact:
Navjot Khalsa
Digital Marketing Manager
nkhalsa(at)rosettabooks(dot)com
http://www.rosettabooks.com
+1.917.338.077x3